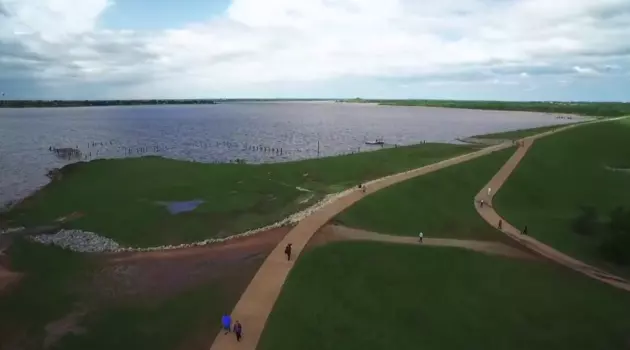 The 10 Commandments of the Wichita Falls Circle Trail
Circle Trail aerial view at Lake Wichita (Choose Wichita Falls)
It's the perfect time of year to get out of the house and explore the Wichita Falls Circle Trail from Lake Wichita Park all the way down to the waterfall just outside Lucy Park. You can access the trail from various locations, but Lake Wichita Park at the end of Fairway would be a great place to start. You'll find plenty of parking space and your kids will love climbing the big mountain by the lake.
The Circle Trail is popular with walkers, runners and cyclists year round, but motor vehicles are strictly prohibited. The trail is available any day the weather is nice, so get out and explore.
If the trail is new to you, here are the 10 (unofficial) Commandments of the Circle Trail. In no particular order.
1

You're not the only one enjoying the beautiful day, so stay to your side of the path and be alert and courteous to the other travelers. If you're walking or running two or more abreast, be prepared to move aside for faster or oncoming travelers.

Dave Diamond/Townsquare Media

Dave Diamond/Townsquare Media

2

When you're on a bicycle and approaching slower travelers from behind, call out your intention to pass them on the left so they're not caught off guard.

Dave Diamond/Townsquare Media

Dave Diamond/Townsquare Media

3

When you're on a bicycle, be sure to take everything you'll need to fix a flat tire. Yours or someone else's. I was once privileged to be the "Knight In Shining Spandex" to a young mother and child with a flat tire. They got home happy and we had a nice chat along the trail.

4

When you're on a bicycle, on the Circle Trail or anywhere, always wear your Brain Bucket!

5

Stay alert, adjust your speed as necessary

There are some cyclists who love to ride the trail as fast as they can. If you're one of the speed demons be prepared for slower traffic in your path, and if you're pedestrian mobile, be alert to fast moving cyclists sailing past you. They're quiet and can be right next to you before you realize it!

6

Wear and use ear buds responsibly

We all love to have our favorite music playing when we're exercising, but remember, you're not the only one on the trail. Either leave one ear open to the world around you, or keep the tunes quiet enough that you can hear when someone calls out from behind that they're about to pass you.

7

Pay attention to the mile markers along the trail

In case of emergency, you'll want to call the Wichita Falls Fire Department as a First Responder and if you can give them a mile marker location they can find you much more quickly.

Circle Trail Map (Choose Wichita Falls)

Circle Trail Map (Choose Wichita Falls)

8

Be careful on blind curves

One of the prettiest parts of the Circle Trail is where it winds through Williams Park and then down along the Wichita River. While this is a very scenic part of the trail, it also has some blind curves. Stay on the right hand side of the path and be prepared to meet other travelers without warning.

Wichita Falls Circle Trail at the Falls (Choose Wichita Falls)

Wichita Falls Circle Trail at the Falls (Choose Wichita Falls)

9

The Circle Trail is very much pet friendly, just remember to pick up after your pet and keep it on a leash. If your pet is new to the trail, make sure to keep them under control when fast cyclists or runners go by, they sometimes want to chase and leashes can cause problems when stretched tightly across the trail.

Great Danes on Circle Trail (Aaron Galloway/Townsquare Media)

Great Danes on Circle Trail (Aaron Galloway/Townsquare Media)

10

The Wichita Falls Circle Trail is there for everyone and there's no charge to use it, so get the kiddos outside and let them run and play to their heart's content, or just get out and enjoy a walk, run or bicycle ride yourself.

Dave Diamond/Townsquare Media

Dave Diamond/Townsquare Media