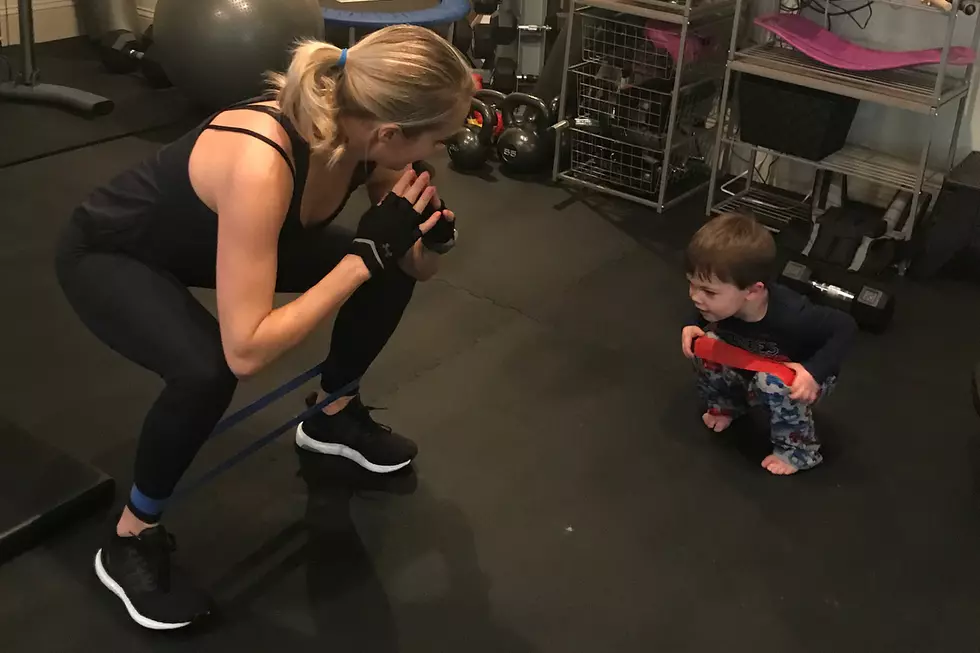 Carrie Underwood Powers Through Workout With Family Following 2017 Face, Wrist Injury
Instagram (@carrieunderwood)
Carrie Underwood is a walking representation of the old saying, "No pain, no gain."
Just four months after the hard fall she took at home that injured her face and left her wrist broken, the American Idol favorite proved she's a real trooper when she shared a few pics on Instagram from yesterday's (February 10) at-home workout with her family.
"My boys make work outs fun (and a bit less productive, but that's ok!)," the 34-year-old singer captioned an image depicting her in a squat position during a fitness session with her hockey star husband Mike Fisher and their 2-year-old tike, Isaiah.
As previously reported, the "Before She Cheats" musician took a scary spill on a flight of steps outside her home back in November 2017, causing the incident forced the star to cancel her performance at the Country Rising benefit concert at Bridgestone Arena in Nashville. Underwood was rushed to the hospital for treatment for injuries, in which she sustained multiple cuts and abrasions in addition to a broken wrist.
"I'll spare you the gruesome details, but when I came out of surgery the night of my fall, the doctor told [my husband] Mike [Fisher] that he had put between 40 and 50 stitches in," Wilson explained in an update regarding her recovery to Entertainment Tonight.
"Now, here we are 7 weeks later and, even though I've had the best people helping me, I'm still healing and not quite looking the same," the seven-time Grammy Award winner added. "I honestly don't know how things are going to end up but I do know this: I am grateful. I am grateful that it wasn't much, much worse."
By the looks of it, the gymrat seems to be in good health again and ready for a comeback.
20 Celebrities with Surprising College Degrees