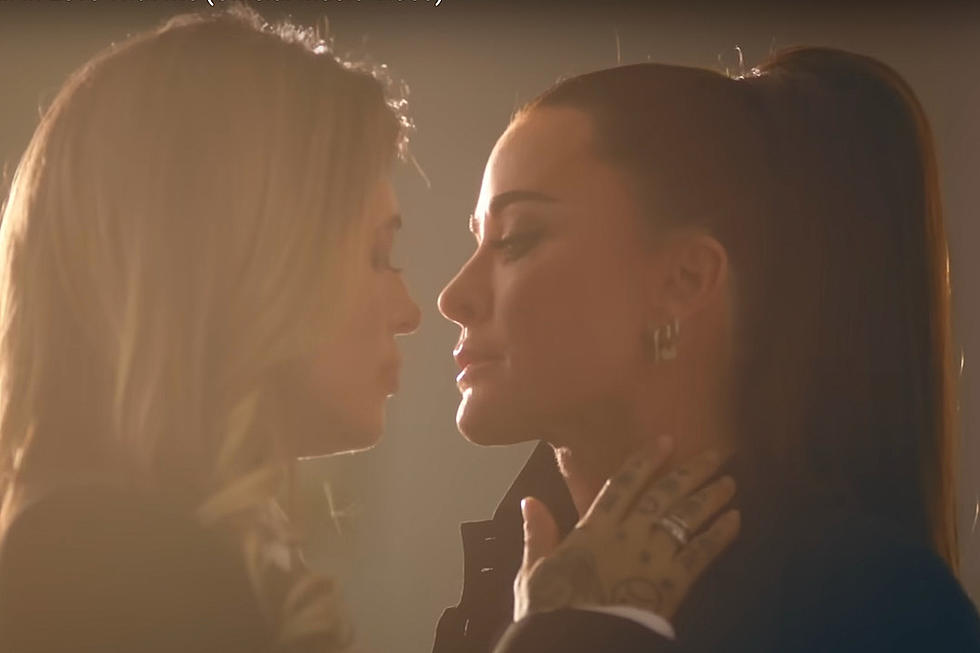 Morgan Wade, Kyle Richards 'Troll' the Rumor Mill With Racy Music Video [Watch]
YouTube
Morgan Wade and The Real Housewives of Beverly Hills star Kyle Richards poke fun at swirling romance rumors in the music video for Wade's song, "Fall in Love With Me."
The two women star as neighbors in the clip, which plays up their mismatched fashion senses and aesthetics: Richards is dressed the part of the glowing, feminine diva in the video, while Wade's dominant accessory is her many tattoos. Through the video's scenes, furtive, longing glances over the fence turn into up-close flirtation, culminating in a couple of steamy kisses and a scene of the two women feeding each other fruit.
At the end of the video, Wade turns and gives a wink to the camera. It's as if she's looking directly at the fans who have been speculating about her friendship on the internet, letting them know she knows exactly what's being said about her — and she's in on the joke.
It's all tongue-in-cheek, a hat-tip to the online rumors that have linked the pair romantically over the past several weeks. Those rumors began after Richards and Wade started hanging out, as Richards and her husband of 27 years, Mauricio Umansky were going through a public rough patch in their marriage.
Before the music video came out, Wade and Richards shared a behind-the-scenes clip, explaining that they met simply because Richards started out as a fan of Wade's music. When Richards followed her on social media, Wade sent a DM asking why.
"I just didn't expect somebody from Beverly Hills, you know ... my friends freaked out," Wade says.
"And then you really wanted to know why I was following you," Richards adds.
"I've done several music videos, and every time there's someone in it with me, they always assume we're dating, or something's going on," continues Wade, who was also on the receiving end of some fan speculation after she played Kip Moore's love interest in his music video for "If I Was Your Lover."
"If you get on the internet, you see that people were obsessed with us being friends, and why we're friends, and why I would be friends with you," she tells Richards, who jokingly replies,
"Excuse me, they wonder why I'm friends with you too."
"But, you know, we thought it would be a good idea to kinda poke fun at that, and kinda troll the trolls a little bit," Wade sums up. "Internet's gonna be poppin' off about this one, I'm sure."
"We'll, if they're gonna talk, you might as well give 'em something to talk about," Richards adds.
"Fall in Love With Me" comes off of Wade's upcoming sophomore album Psychopath, which is due out on Aug. 25.
See Country Stars' Coolest Tattoos
Do country music and tattoos really go together? Heck yes they do! From delicate, tastefully-concealed designs to full-on job-stoppers (that means ink on your hands or face!), country stars have it all. Scroll through this list to see 26 of the most amazing, meaningful and recognizable country music tattoos.