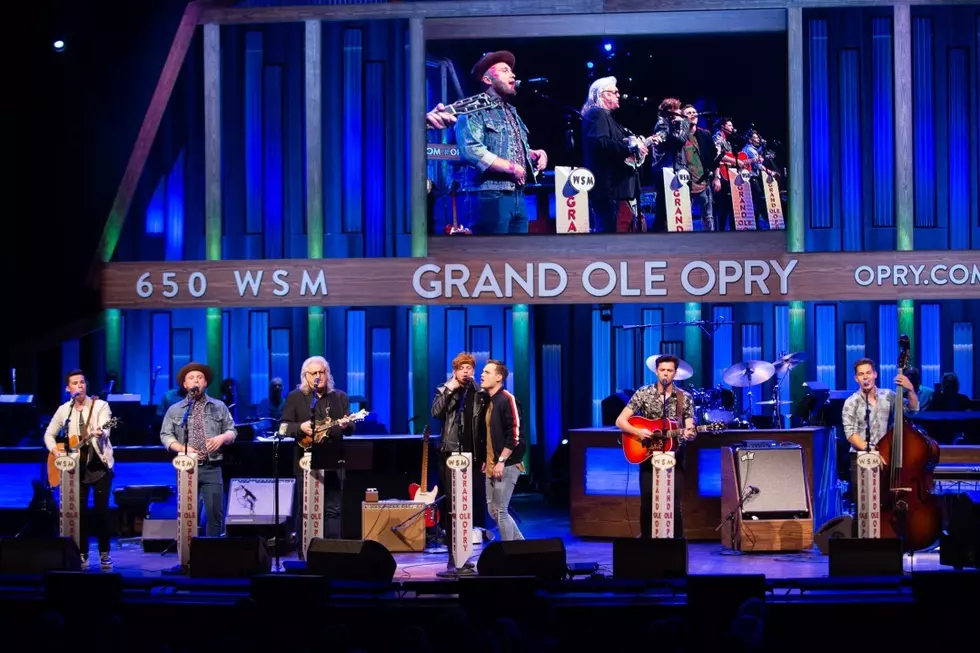 King Calaway, Ricky Skaggs Debut 'Seven Bridges Road' Cover Live at the Opry [Watch]
Chris Hollo, Grand Ole Opry
Six-piece up-and-coming country band King Calaway had the most epic second Grand Ole Opry performance: The group performed the Eagles' "Seven Bridges Road" alongside living legend Ricky Skaggs.
The collaboration came together just hours before the band's performance on the historic stage. King Calaway and Skaggs were having an impromptu jam session backstage at the Opry when the idea of a cover and collaboration came about with no real rehearsal time before the live performance.
For their performance of "Seven Bridges Road," Skaggs is on the mandolin, while Caleb Miller and Simon Dumas play guitar; Austin Luther is on stand-up bass; and Chris Deaton, Jordan Harvey and Chad Michael Jervis join on vocals.
"Having the honor of playing with Ricky Skaggs at the Opry was a moment that made all of us stop and reflect on what we had just experienced," Miller says in a press release. "Ricky has been a huge influence on all of us. He is a legend in country music.
"Being able to share the stage with such an icon, while playing such an iconic song, was nothing short of humbling," he adds. "This was such a milestone in all of our careers and a moment we won't ever forget."
King Calaway, signed by BBR Music Group / BMG, recently made their television debut on Jimmy Kimmel Live!, performing the title track of their EP, "World for Two," and "Rivers."  In early July, the band opened up for Rascal Flatts at Ascend Amphitheater in Nashville.
Best Country Songs Since 2000: