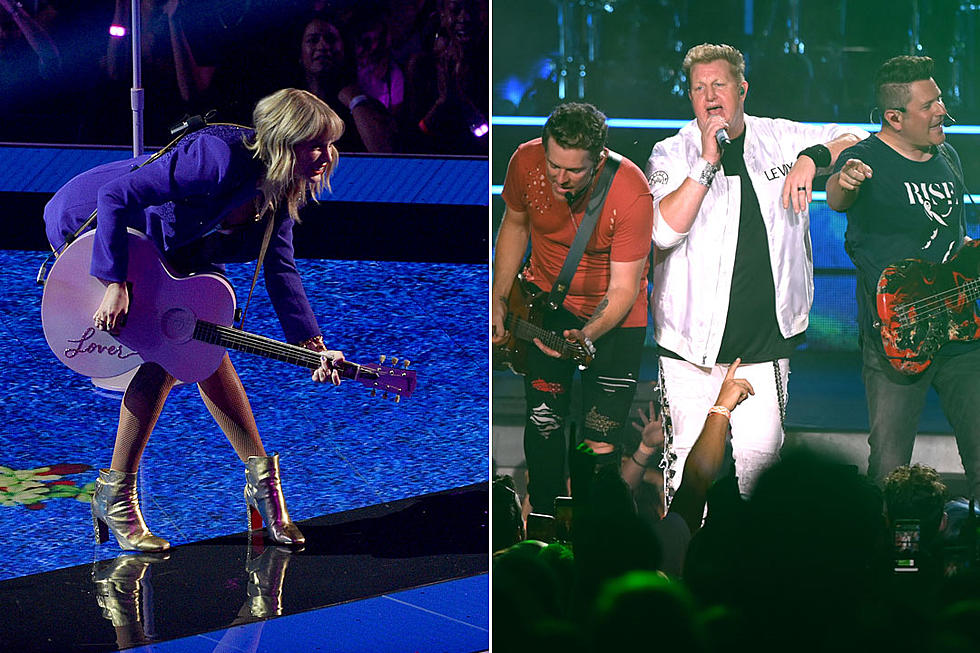 Read Taylor Swift's Diary Entry From 2006 About Opening for Rascal Flatts
Bryan Bedder /
Jason Kempin, Getty Images
Taylor Swift was ecstatic when she got the call telling her she'd be opening for one of country music's hottest trios, Rascal Flatts. It was the fall of 2006, and she was just 16, but in a few days she'd be heading out to intro the country group's Me and My Gang Tour.
"Oh my God," a teenaged Swift wrote in all caps in a diary entry penned Oct. 18, 2006. "I am on the Rascal Flatts tour! I got the call yesterday and I screamed louder than I can ever remember screaming before."
"I'm so excited," she said not once, but twice. Read the full entry below:
Swift wasn't supposed to open Rascal Flatts' tour, but the opportunity came knocking thanks to Eric Church, who was booted from the run for continually playing past his allotted stage time, which meant the Flatts were continually playing over their time and having to dish out money to venues to make up for it.
To this day, Swift maintains that she's grateful for Church's rule-breaking attitude because it gave her a big opportunity — she even gave Church her first gold record as a thank you with a note that read:
"Thanks for playing too long and too loud on the Flatts tour. I sincerely appreciate it. Taylor."
Now 29, Swift has just released her seventh studio album, Lover — an almost double-disc's worth of new music that chronicles life in her 20s and finally — finally — finding the love she's been searching for in her British boyfriend of three years, Joe Alwyn. Deluxe editions of the album that are available at Target include entries from Swift's diary, starting at age 13 through the present, at age 29.
The Flatts saw the entry she wrote about them and tweeted a picture, saying: "@taylorswift13, we remember that day well!! Honored to have a page in your story. Love the new record!"
How Eric Church Helped Launch Taylor Swift's Career
Proof Taylor Has Always Been a Lover:
Country's Most Powerful Women? Taylor Swift Makes the List!