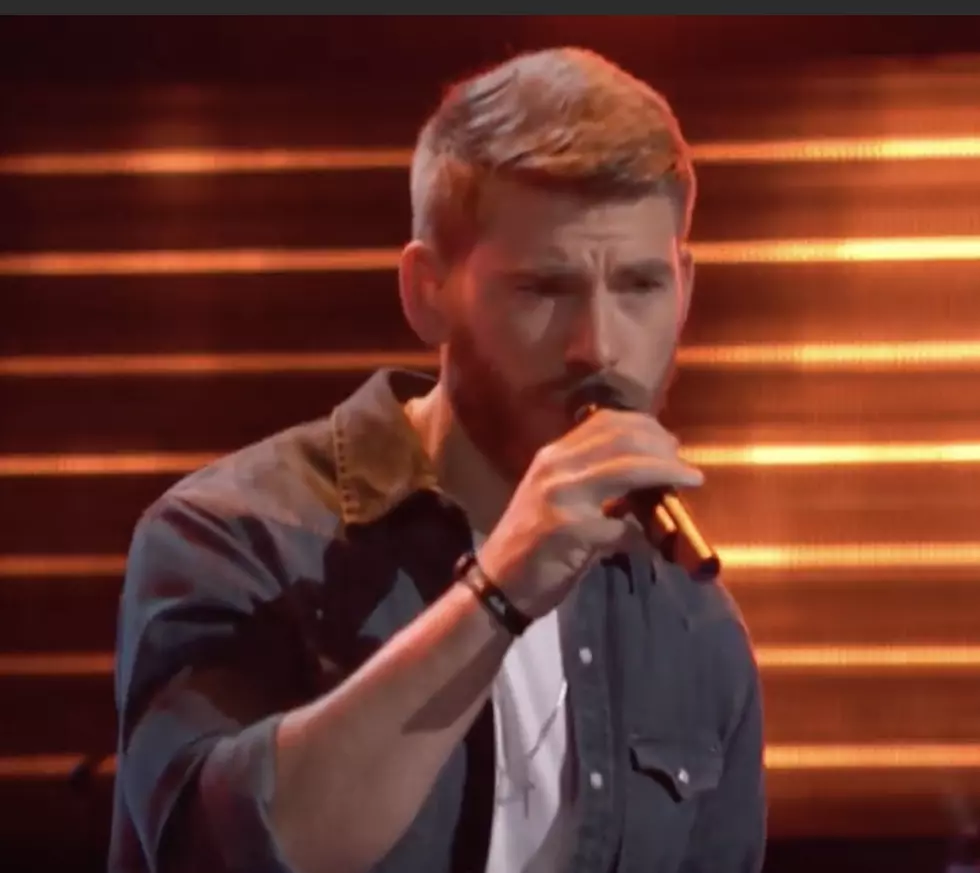 'The Voice': Zach Bridges Wins Over Blake Shelton With 'Ol' Red'
YouTube
The Voice Season 17 continued with part five of the blind auditions on Monday (Oct. 7)—allowing returning coaches Blake Shelton, Kelly Clarkson and John Legend, as well as returning alum Gwen Stefani, to take cracks at their initial team builds. Shelton and Stefani are, of course, well-known as a real-life couple, and are keeping things bubbly with playful competition.
The evening's first serious battle between Shelton and Stefani came in the form of 28-year-old Zach Bridges from Mississippi. "Today is the day of my blind audition. I'm doing a Blake Shelton song. I'm doing 'Ol' Red,'" he admitted. "It's one of the first songs I learned how to play. I'm excited, and I'm also nervous at the same time. I can't even fathom I'm gonna be performing in front of Blake Shelton singing a Blake Shelton song!"
Bridges gave a bit of background on his history. "I work as an X-ray tech at the VA Hospital. I take pride in the fact that I serve the veterans. Just knowing that I'm a part of bettering somebody's health, it really feels good.
"I grew up singing in school, but I didn't really start wanting to pursue it and play an instrument until I was about 20. I picked up the guitar, and sitting at the kitchen table with my laptop and YouTube pulled up, that's where I learned how to play."
Shelton grinned and mouthed "He's good," upon hearing his 2002 hit, before turning with a sheepish shrug. He was followed by Stefani defiantly hitting her button.
"What is wrong with you," scolded Shelton. "Stay in your area!"
"Until tonight," taunted Stefani right back.
Shelton sarcastically asked his girlfriend if she'd ever even been to Mississippi, to which Stefani coolly answered, "I've been around the world." She added, "It's really just about picking songs. Anyone can do that. You just go on the Internet and look for country songs."
Stefani followed that shocking statement with some slightly ameliorating words: "I'm a huge fan of Blake Shelton...he's actually my favorite singer in the whole world."
Shelton, unsurprisingly, met this head to head. "You don't have to hope that I'll get on Google and type in the words 'country songs,''" he snorted, before going on to describe why this song choice meant so much to him.
"I never would've dreamed how important that song would've been in my life. I moved to Nashville when I was 17. The only thing I knew in the world was that I wanted to be a country singer," Shelton elaborated. "I just graduated high school, and two weeks later, I was sitting in Nashville. And my first job was painting a house for Mae Boren Axton, whose son was Hoyt Axton —living in her driveway on his tour bus, and he invited me onto his bus one day, and he sang me that song. And little did I know, a 17-year-old kid from Ada, Oklahoma, came there, didn't know what I was gonna do, and within no time, I'd found what would go on to be possibly my signature song. And now, here, all these years later, that's the song that you chose to sing,"
The moving story did little to budge the other judges, who shot off that Shelton was full of hot air. "Go ahead and blow our minds, pick Gwen," hooted Clarkson.
Of course, that did not happen, and Bridges ended up on the expected Team Blake.
"It's fun to be in a competition with Blake because, you know, it's not really who we are at home at all," explained a smiling Stefani. "Being on the show, it brings it out."
We'll be following along each week to keep up with the Season 17 competition, so be sure to check in weekly to check the progress of your favorites on the show.
6 Unforgettable 'The Voice' Moments
Here Are the 10 Most Successful Country Singers from The Voice: