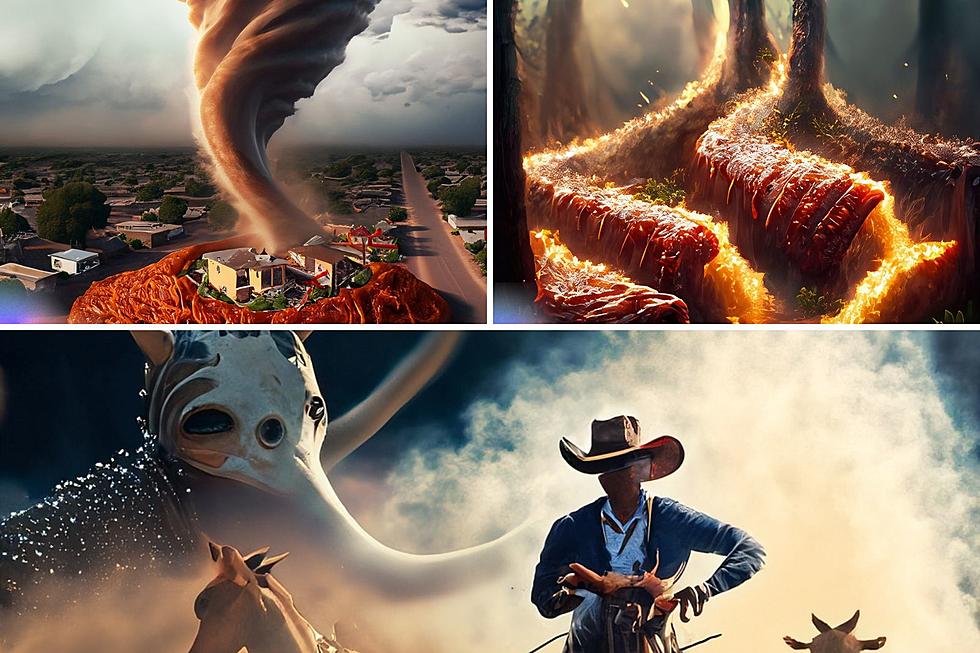 8 Mind-Blowing Reasons Why Texas is the Wildest State in the Multiverse
Adobe Firefly/Canva
Unveiling the Unparalleled Wilderness of the Lone Star State.
I asked ChatGPT to write the wildest listicle-type article about Texas it could imagine, then I used Adobe's Firefly to generate images. I guess this is what robots imagine is going on in Texas.
1. The Enchanted BBQ Forests
Imagine a forest where the trees are made of mouthwatering BBQ ribs, and the streams flow with tangy barbecue sauce. Welcome to the enchanted BBQ forests of Texas! Locals and tourists alike embark on delicious hikes, satisfying their hunger as they go.
2. The Chili Tornado Alley
Texas is renowned for its wild weather, and here's the twist – instead of tornadoes filled with debris, the Lone Star State experiences Chili Tornadoes! Watch in awe as giant spirals of chili con carne touch down, tantalizing taste buds across the land.
3. The Quirky Cattle Parades
Move aside, Macy's Thanksgiving Day Parade! In Texas, they take their livestock seriously. Every year, cows, horses, and even llamas don extravagant costumes and march through the streets, turning the state into a surreal animal fashion show.
4. Flying Pigs at the Texas State Fair
Texas knows how to defy gravity! At the annual State Fair, pigs have sprouted wings, allowing them to soar through the air, much to the amusement of visitors. Catch these airborne hogs in action and witness the epitome of pork flight!
5. The Underground Armadillo Racing League
Beneath the streets of Texas, a secret society hosts thrilling underground armadillo races. These armored critters dash through elaborate tunnels, competing for glory while the spectators bet on their favorite speedy shells.
6. Urban Cow-Tipping Championships
In the concrete jungles of Texas, cow-tipping has evolved into an extreme sport! Skilled athletes gather to participate in the Urban Cow-Tipping Championships, where they maneuver through city streets, dodging obstacles, and tipping mechanical cows.
7. The Great Texas Cowboy vs. Alien Rodeo
Forget about traditional bull riding. In Texas, cowboys take it up a notch by competing against extraterrestrial beings from distant galaxies. This annual event showcases cowboys fearlessly taming intergalactic creatures while the audience cheers on, amazed by the spectacle.
8. The Floating BBQ Islands of Lake Travis
Lake Travis is home to a surreal phenomenon where BBQ islands made of brisket, ribs, and sausages float atop the water. Boaters and swimmers can indulge in a never-ending buffet, simply reaching out to the smoky delights as they float by.
Remember, dear readers, while this listicle might stretch the boundaries of reality, it's all in good fun. Texas, though not as crazy as this article suggests, is indeed a unique and vibrant state that embraces its rich culture, history, and larger-than-life spirit!
Top Ten Trashiest Towns in Texas
Time to take out the trash or show off the trash of Texas. Check out the top ten below.
(All crime statistics were pulled from
www.neighborhoodscout.com
based on each individual town. See editor's note for Lufkin, Texas.)
10 Must-Try Food Stops, From Houston, TX to Dallas, TX
The Best Hidden Gems in Texas