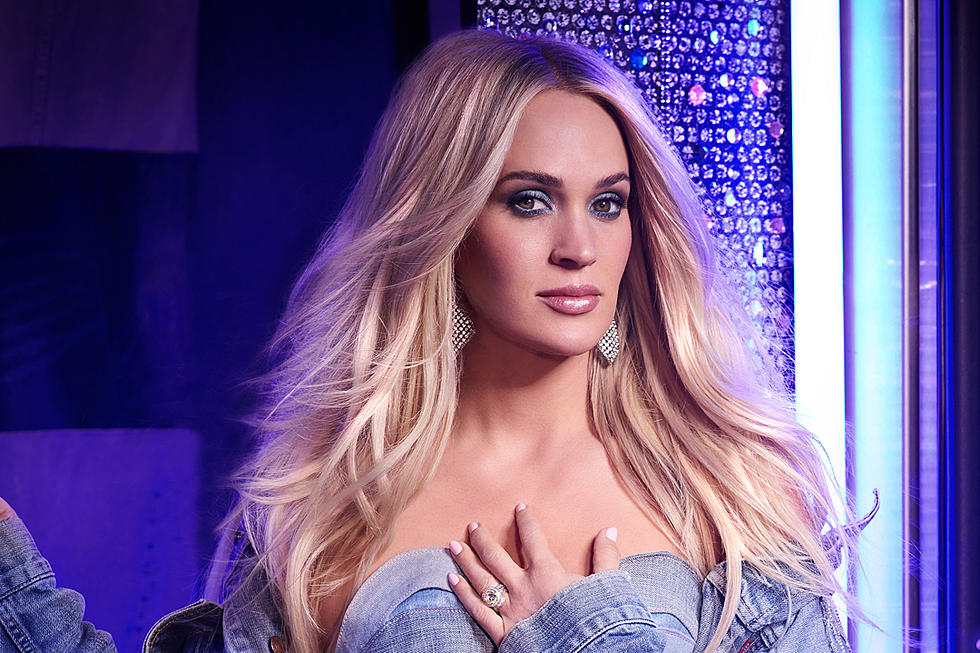 Carrie Underwood Drops 'Denim & Rhinestones' Track List
Randee St. Nicholas
The track list for Carrie Underwood's upcoming studio album Denim & Rhinestones is packed with vivid colors and emotions. The 12 cuts on her upcoming seventh studio album of original country songs are very tactile.
On Friday morning (April 8), Underwood shared the title song, "Denim & Rhinestones." It's one of 11 Underwood co-writes on her new album, and one that makes good on a promise for a project filled with fun "sing into your hairbrush" songs. Producer David Garcia also has writing credits on 11 of the songs, teaming with Underwood on 10 and Underwood and Hillary Lindsey on seven.
The full track list for Denim & Rhinestones appears below, but the most sensory titles include "Velvet Heartbreak," "Burn," "Faster" and "Pink Champagne." In a press release announcing the track list, the 39-year-old notes that the project will have a throwback feel and include many of her childhood influences. It's a "big reflection" of who she is as a person and artist, she shares, no doubt recognizing the subtle nod to her Las Vegas residency of the same name.
The Denim & Rhinestones album is set for release on June 10 through Capitol Nashville.
Carrie Underwood's Denim & Rhinestones Track List:
1. "Denim & Rhinestones" (Carrie Underwood, David Garcia, Josh Kear, Hillary Lindsey)
2. "Velvet Heartbreak" (Underwood, Garcia, Lindsey)
3. "Ghost Story" (Garcia, Kear, Lindsey)
4. "Hate My Heart" (Underwood, Garcia, Michael Hardy, Lindsey)
5. "Burn" (Underwood, Garcia, Ashley Gorley, Lindsey)
6. "Crazy Angels" (Underwood, Garcia, Lydia Vaughan)
7. "Faster" (Underwood, Garcia, Lindsey)
8. "Pink Champagne" (Underwood, Garcia, Gorley, Hillary Lindsey)
9. "Wanted Woman" (Underwood, Garcia, Josh Miller)
10. "Poor Everybody Else" (Underwood, Chris DeStefano, Miller)
11. "She Don't Know" (Underwood, Garcia, Hillary Lindsey)
12. "Garden" (Underwood, Garcia, Miller)
Top 50 Carrie Underwood Songs — Her Greatest Hits and Best Album Cuts
Carrie Underwood's best songs and biggest hits, ranked by fans, Taste of Country staff and industry experts, with additional consideration given to commercial success and live performances. These are Carrie Underwood's Top 50 songs!
PICTURES: See Inside Carrie Underwood's Breathtaking Nashville Mansion
Carrie Underwood and her husband, Mike Fisher, owned a 4-bedroom, 4-bathroom, 2-half-bathroom home in an affluent Nashville suburb called Brentwood. The 7,000-square-foot mansion features a wet bar, fitness center and tennis court, as well as a four-car garage, walk-out basement with heated marble floors and extra appliances, including a sub-zero fridge and wine fridge. That house is where Underwood suffered a devastating fall in 2017.
The couple sold the luxurious home for $1,410,000 in March of 2019, after they moved into the massive dream home that they had spent several years building from scratch.