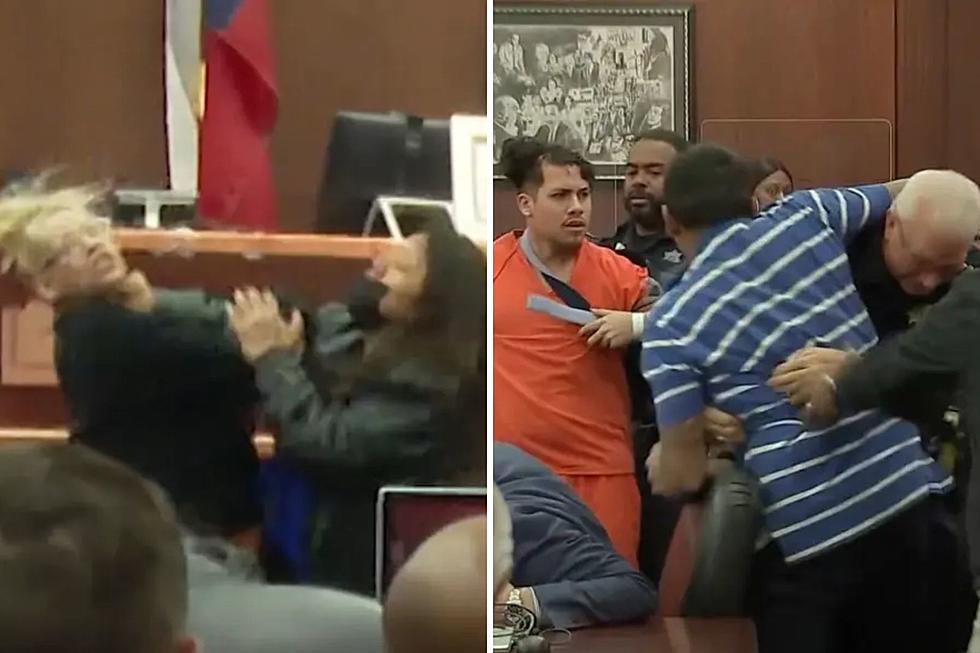 Courtroom Brawl Breaks Out in Houston, Texas After Killer Laughs at Victim's Mom
Twitter/ Canva
A distraught mother and two of her family members found it incredibly challenging to contain their emotions during an emotional courtroom testimony in Texas on Tuesday.
The trial involved Frank DeLeon Jr., a 19-year-old who stands accused of a horrific crime - the alleged shooting of his ex-girlfriend, Diamond Alvarez, just 16 years old at the time, a staggering 22 times in January 2022.
During the courtroom tension and overwhelming grief, Alvarez's mother, Anna Machado, bravely shared her victim impact testimony. The weight of her loss and pain became too much to bear, and she felt an overwhelming need to confront the accused. She believed he was showing a lack of remorse, even going so far as to claim that he was "laughing at my face."
The Baliff Steps In
Anna Machado stepped off the stand, her emotions raw and palpable, and began walking towards DeLeon. It was a moment of anguish that no mother should ever have to endure. However, the situation was soon diffused by a bailiff, preventing any physical confrontation.
Uncle Throws Hands
Meanwhile, in the midst of the turmoil, Alvarez's uncle, overwhelmed by anger and sorrow, could not hold back his emotions. In a desperate attempt to find justice for his beloved niece, he rushed towards DeLeon, landing a series of punches on the alleged murderer. The chaos and confusion that ensued were captured on video by KHOU from outside the courtroom.
Seeking Closure
Amidst the chaos, court employees quickly intervened, bringing Alvarez's uncle under control, and ensuring DeLeon's safety by guiding him to a corner. This heartbreaking incident is a stark reminder of the emotional toll that such trials can take on the families of victims. In the face of immense sorrow, Anna Machado, her family, and all those affected by this tragedy are enduring unimaginable pain, seeking justice and closure for their beloved Diamond Alvarez.
Check out the video for yourself below:
Executed Death Row Inmates from the Texas Panhandle
The following individuals were convicted of Capital Murder for crimes committed in the Texas Panhandle (Amarillo and its surrounding areas) and sentenced to death by lethal injection. Read a brief summary on the area's executed Death Row inmates.
All information and photos have been taken from
TDCJ
and court records.
Gallery Credit: Sarah Clark
The Killers Behind These 5 Texas Cold Cases Still Roam Free
Women On Death Row In Texas
There are only
seven women
on Texas' Death Row. Here, you can read a brief summary of who these offenders are and the crimes they committed that earned them the death penalty.
All information has been taken from TDCJ and court records.
Gallery Credit: Sarah Clark