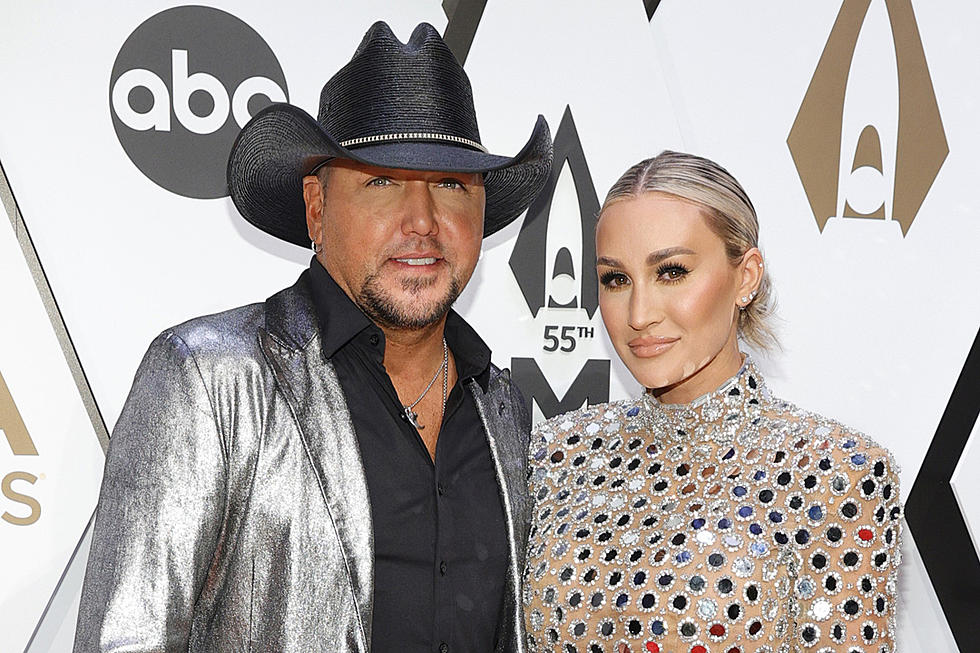 Jason Aldean and Wife Brittany Play a Dangerous 'Darcey & Stacey' Drinking Game
Jason Kempin, Getty Images
Jason Aldean was excited to talk about his new song and upcoming album, but he was really excited to talk about the drinking game he and wife Brittany play while watching Darcey & Stacey.
Talking to Evan Paul and Taste of Country Nights, Aldean leaned in to spill how he and his wife have a drinking game for TLC's Darcey & Stacey. For those who don't know, the show follows twin sisters Darcey & Stacey Silva, documenting their lives and adventures in love. Season 3 just began, which means if the "Trouble With a Heartbreak" singer soon turns up on television one morning wearing sunglasses, you'll know why.
You can find him talking about it about 11 minutes into this interview. He starts with, "It's so fun!"
"Listen, this is what happens when you get married and you have kids and you binge-watch shows at night," Aldean says. "We started watching 90 Day Fiancé, and there's a chick on there, there's twins, and I can't remember which one is which."
Both Silva women appeared on Seasons 1 and 2 of 90 Day Fiancé: Before the 90 Days, starting in 2017. Season 1 of their reality show began in summer 2020.
"Darcey ... she cries in like every scene. (She's) A very emotional lady. So we decided, me and Britt were sitting there one night, and I'm like, 'We should do a shot of tequila every time she starts crying.' It took us about two nights to figure out that it doesn't take you long to get pretty smashed watching that show if you turn it into a game."
Shortly after spilling these details, Aldean is asked if he'd ever sing a duet with Brittany. There is hope!
See Inside Jason Aldean's Spectacular Florida Beach House
Jason Aldean
's beach house in Santa Rosa, Fla., sits right on the Gulf of Mexico.
Aldean paid $4.1 million for the new 5-bedroom, 5-bathroom, 4,452-square-foot beach house. The spectacular property affords the singer and his family the opportunity to walk out their back door and down a bridge to their own private beach, and the exterior of the villa features a courtyard with iron gates that includes gas lanterns, a swimming pool and a fountain.
The home's interior includes a downstairs with an open floorplan and oversized windows, chiseled stone floors, a gourmet kitchen, a bedroom and study and a fireplace, with coffered ceilings throughout. The upstairs of the home includes two separate master bedrooms that both overlook the Gulf, as well as two more bedrooms that each have their own attached bathrooms.
The stunning home is also set for whatever weather might blow in from the Gulf. Built in 2005, the house features all-impact windows and doors, as well as Geo-Thermal heating and cooling, cellulose insulation, foam ceiling and floor insulation and more.