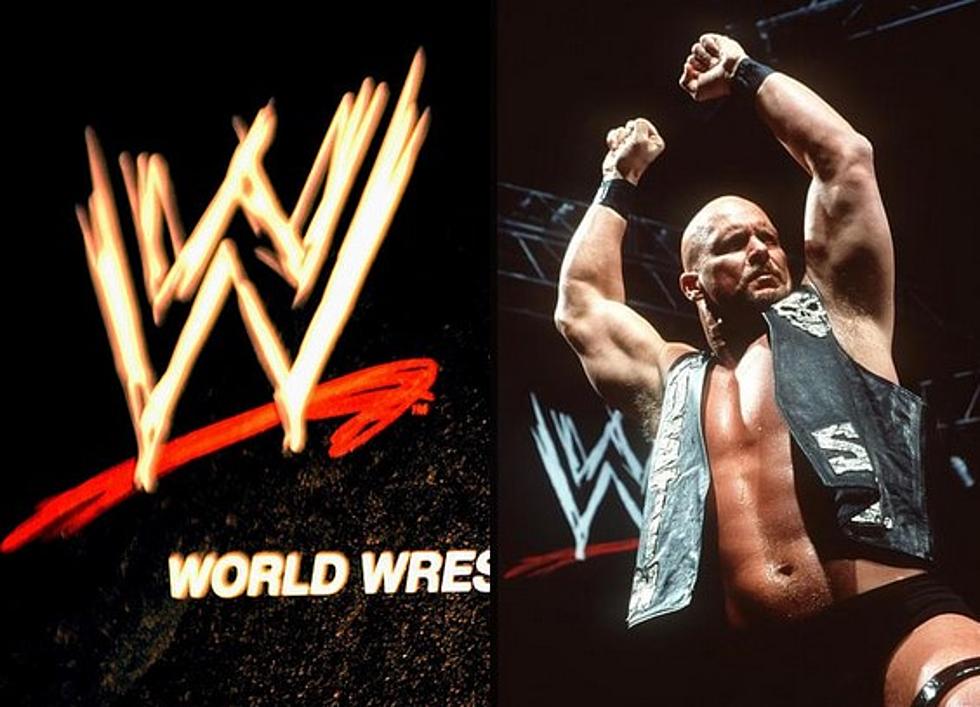 Celebrate 3:16 Day by Watching the Best Stone Cold Steve Austin Texas PPV Matches
Getty Images
WHAT?! It's 3:16 day? Crack open a beer, pour it all over yourself and enjoy some Attitude Era wrestling on this most important of holidays.
To someone younger than me, you may not understand the impact that Stone Cold Steve Austin had on my childhood. It's crazy that he only wrestled for eight years in the WWF. Throughout that time, he had some amazing moments in wrestling history. Today though, let's focus on the Texas portion of the Texas Rattlesnake.
January 19th, 1997 Royal Rumble from the Alamodome in San Antonio
The final two minutes of this match get interesting because technically Stone Cold should not have won. Brett Hart throws him over the top rope 'eliminating' him, but since the refs were dealing with a brawl on the outside they didn't see it. Austin gets back into the ring and is the last one standing at the end. Austin eliminated ten wrestlers in this Royal Rumble which would tie an all time record with Hulk Hogan.
February 15th, 1998 WWF In Your House 20: No Way Out of Texas from the Compaq Center in Houston
Can't find the match for this one online, but I did find this sweet promo trying to get people to buy the pay per view. Stone Cold would be doing a fatal four way tag no elimination match. : Cactus Jack, Chainsaw Charlie, Owen Hart & Steve Austin defeat Savio Vega, The New Age Outlaws (Billy Gunn & The Road Dogg) & Triple H.
April 1, 2001 Wrestlemania X-7 from the Reliant Astrodome in Houston
I think many would agree, this is the greatest pay per view in WWF history. Holy s*** match after match was an amazing Wrestlemania moment and it all concluded with the WWF World Heavyweight Title No Disqualification Match. Stone Cold defeating The Rock in Texas is a moment that many folks won't forget.
April 2nd, 2022 Wrestlemania 38 from AT&T Stadium in Arlington
It still makes me sick to my stomach that I didn't go to this. We all thought we would never see Stone Cold wrestle again. This was his first match since 2003 when he lost to The Rock at Wrestlemania XIX. Getting Stone Cold to wrestle in one of the biggest venues in Texas in modern day was a sight to see. Steve Austin defeating Kevin Owens in a No Holds Barred match made me feel a lot of nostalgia on this day. Fast forward to the 3:49 mark in that video above. When that glass shattered in AT&T Stadium, the crowd pops just like it did back in the day. It felt good to see Stone Cold again.
Maybe next year for 3:16 day, I can do the best Raw or Smackdown Stone Cold Moments. For now though, I will leave you with the Stone Cold Steve Austin 3:16 speech because everyone should watch this today.
5 Texas Myths That Aren't Really Myths
Sure, texas isn't short on folklore. But there are many things people from outside Texas believe are myths, but are actually true.
History of the Dallas Cowboys Thanksgiving Performers
From 1997 to now, we go through every performer the Dallas Cowboys have had since 1997.