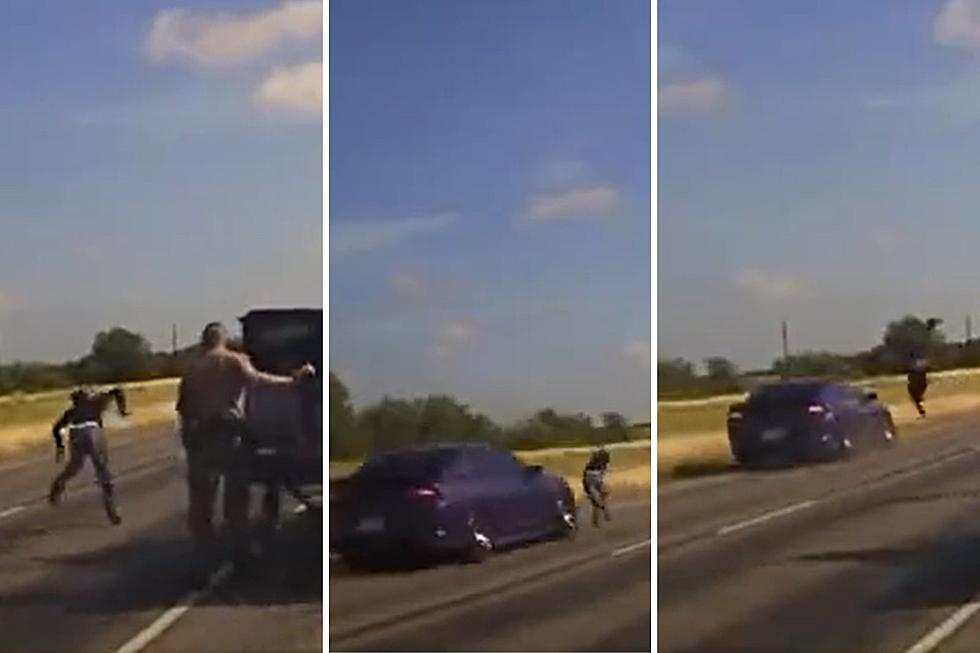 Escaping Suspect in Texas Hit by Car While Fleeing From Police
Twitter/Canva
Suspect's Daring Escape Plan Takes a Surprising Turn as Fate Steps In.
Always look both ways before crossing the street, even if you're trying to escape the cops.
The video at the bottom of this article is graphic, so reader be warned.
The Escape
The scene opens with a dashcam view of a Texas sheriff's vehicle.  The rear driver's side door swings open and two men jump out from the back and start running down the road.
The Impact
The man who exited the vehicle first looks as if he was planning on running all the way across the street to the other side, which was a mistake.  A car comes barreling by right at that moment and crashes into him at a high rate of speed, sending the man flying off into the distance.
The Aftermath
The guy who got out of the truck second runs off to the right as several officers take off to pursue him.  The camera then switches to a bodycam view of an officer who is running up to check on the first man who was hit by the car. As he approaches, we can see the man on the ground and he doesn't appear to be moving.
You can check out the video for yourself below, but it is graphic, so you've been warned.
Top Ten Trashiest Towns in Texas
Time to take out the trash or show off the trash of Texas. Check out the top ten below.
(All crime statistics were pulled from
www.neighborhoodscout.com
based on each individual town. See editor's note for Lufkin, Texas.)
10 Must-Try Food Stops, From Houston, TX to Dallas, TX
The Best Hidden Gems in Texas