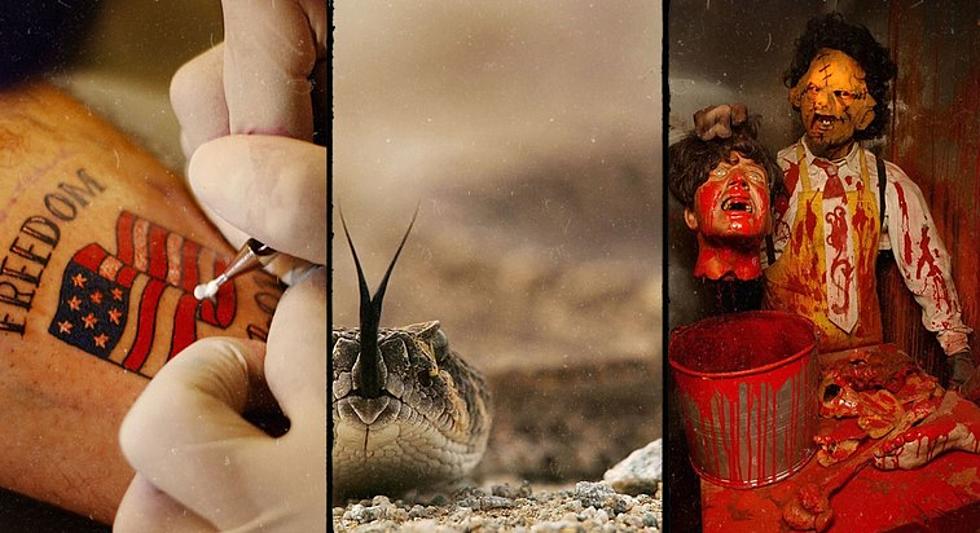 Tattoos, Rattlesnakes, and the Original Texas Chainsaw Massacre Chainsaw in This Fort Worth Shop
Getty Images
Back in the day, you could experience a little bit of Texas weirdness while getting a tattoo at this place.
Not Your Average Tattoo Parlor
You walk into a tattoo shop, what do you expect? Probably some art or pictures of tattoos that the artists have done there most likely. Well this place became a must stop for horror movie fans back in the day because it was home to the original chainsaw from The Texas Chainsaw Massacre.
Check Out the Chainsaw Behind Glass Below
Is It the Same Chainsaw?
Looking at the original movie...they do look very similar. So back in the day, you could have taken a peak at horror movie history while getting a tattoo in Fort Worth. You also could have seen the store pets while you were there as well.
Rattlesnakes
Yes, the Tattoo Ranch even had their own rattlesnakes on premises. As someone who hates all snakes, I would have avoided this section of the shop for sure.
And Of Course Gotten Some Tattoos As Well
So what happened with the Tattoo Ranch?
Sadly it looks like they closed sometime in 2018? I can't get a definitive date on this but judging by Google Maps photos. You can see their storefront go away around that time.
2018 Still Standing
2019 Sign Gone, But Maybe Still There?
2020 Schaffer Outfitter Clearly Takes Over the Spot
It does not look like they moved to a new location, just shut down here in Fort Worth. No word on where the original Texas Chainsaw Massacre chainsaw is now located. If it really is the original, someone hopefully has that displayed somewhere we can all see it.
Top Ten Trashiest Towns in Texas
Time to take out the trash or show off the trash of Texas. Check out the top ten below.
(All crime statistics were pulled from
www.neighborhoodscout.com
based on each individual town. See editor's note for Lufkin, Texas.)
List of Every Texan to Play in the NHL (So Far)
Shockingly the state of Texas has only produced a dozen NHL Players we will put them in order from most successful to least (points wise).