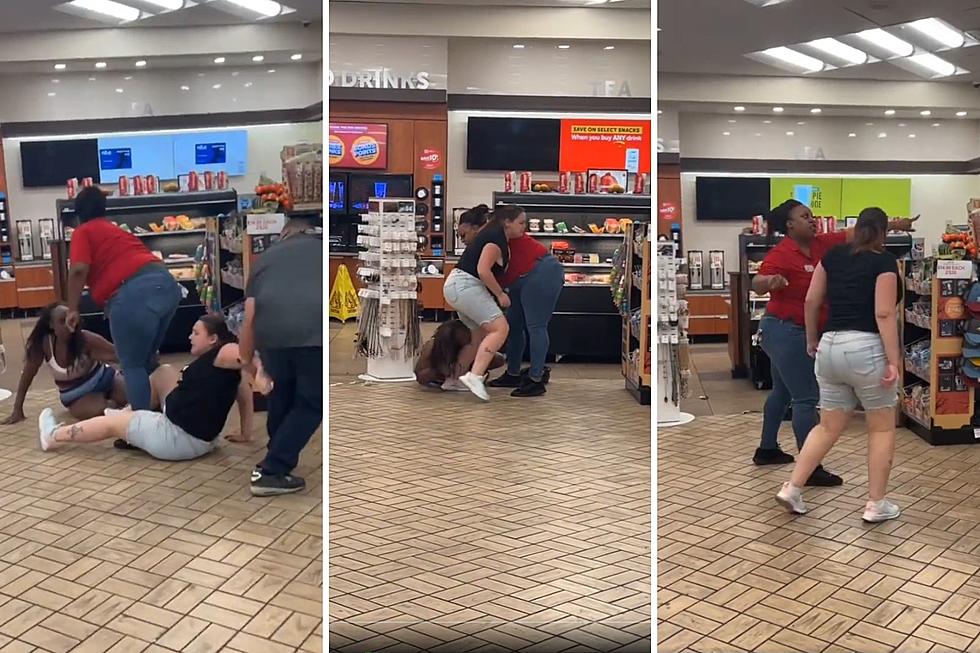 Insane Texas Convenience Store Clash Ends in Unexpected Leg Bite
Twitter/Canva
You won't believe what happened when tempers flared at a Lone Star State convenience store!
Y'all won't believe the wild scene that went down in the heart of Texas when a routine convenience store run turned into an all-out brawl.
We're breaking down the video at the bottom of this article without any context whatsoever, as is tradition.
The Showdown Unfolds
We open our scene right in the middle of the action.  Two ladies are having a slow-motion altercation in the middle of a convenience store in Dallas, Texas. As the clerk runs up to intervene, the lady in the black shirt exclaims "She ran up on me!"
The Unexpected Twist
At this point, the lady in the striped shirt takes a big ol' bite out of the other rascal's leg, which causes her to fall to the ground. Now, I wasn't there, but that bite didn't look like it did anything. If someone wants to cause some damage with a bite, unless they have a super-weak jaw, they can usually break the skin.  This was a little "love bite."
Get Your Hands Off Me!
A man runs up and starts to pull the lady who got bit away from the fray, but she wasn't having it.  "Get your hands off me!" she yells.
Aftermath
As the dust settled and the adrenaline wore off, the clerk gets the two separated and tell the lady in the black shirt to leave. She repeats several times that the other lady has her purse. 
Conclusion
Kudos to the clerk, she kept her cool the entire time and managed to de-escalate the situation.
Check out the video for yourself below!
10 Common Laws Broken in Texas
Here are some examples of laws that are frequently violated in Texas.
Interesting Facts About the Great State of Texas
Here is a look at some little-known facts about the state of Texas.
24 Girls From Texas Went Missing In June. Have You Seen Them?
24 Girls from Texas who went missing in June are still missing as of July 16, 2023. These girls are from all across the State of Texas. Girls went missing from Dallas, San Antonio, Garland, Houston, Temple, and other cities across the state. They also range in age from 12 years old to 17. Please look through the pictures and see if you recognize anyone. Let's bring these girls home to their families.