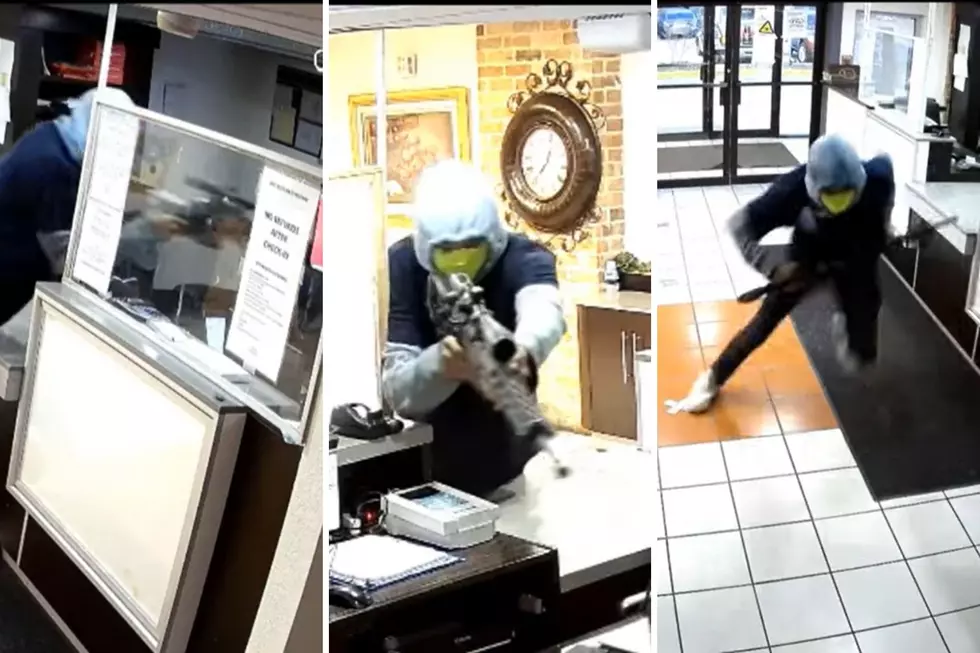 Incredible! Texas Hotel Clerk Takes Down Armed Robber
Youtube/Canva
As you can see on the video at the bottom of this article, we have another case of a coward with a gun getting OWNED by a hero with her own gun.
Oceans 1
I'm not sure how much planning went into this "heist," because first of all, how much cash is a hotel clerk going to have in their register?  I honestly don't think I've ever seen someone pay with cash at a hotel.  A motel? Well yeah, that's another story.
Coming Over the Counter or Nah?
So this Bonnie and Clyde wannabe walks in with the longest rifle I think I've ever seen in my life.  I feel like that would be the easiest gun to take off someone, right?  Once inside, he walks past the teller window to cock this 4-foot-long canon, then approaches the window and demands money.  What happens next is really weird.  It's like the guy can't decide if he wants to get over the counter or stay on the side he's on.  It's wild-looking.  At one point, he's sitting on the counter with the gun held up over his head, not even attempting to point it at her anymore.
Go Ahead Punk, Make My Day
We then switch cameras to the view from behind the counter, where we get to watch him scoot around again like a dog scratching his butt. We don't see her because she's off camera, but apparently, this is when the hotel clerk pulls her own gun on ol' Wyatt Derp over here.
I'mma Head Out
As soon as he sees the gun, this man nopes out of there SO fast.
I mean, this man needs to quit his life of crime and start running track, he can probably get a scholarship to Baylor.
Anyway, check out the video for yourself.  Also, this turned out well for her, but in my opinion, it's never worth risking your life to save your employer's money.  That money is more than likely insured anyway.
Texoma's Most Wanted Fugitives of the Week February 10, 2023
Gallery Credit: Johnny Thrash
Texoma's Most Wanted Fugitives of the Week February 6, 2023
Gallery Credit: Johnny Thrash
Texoma's Most Wanted Fugitives of the Week January 20, 2023
Gallery Credit: Johnny Thrash