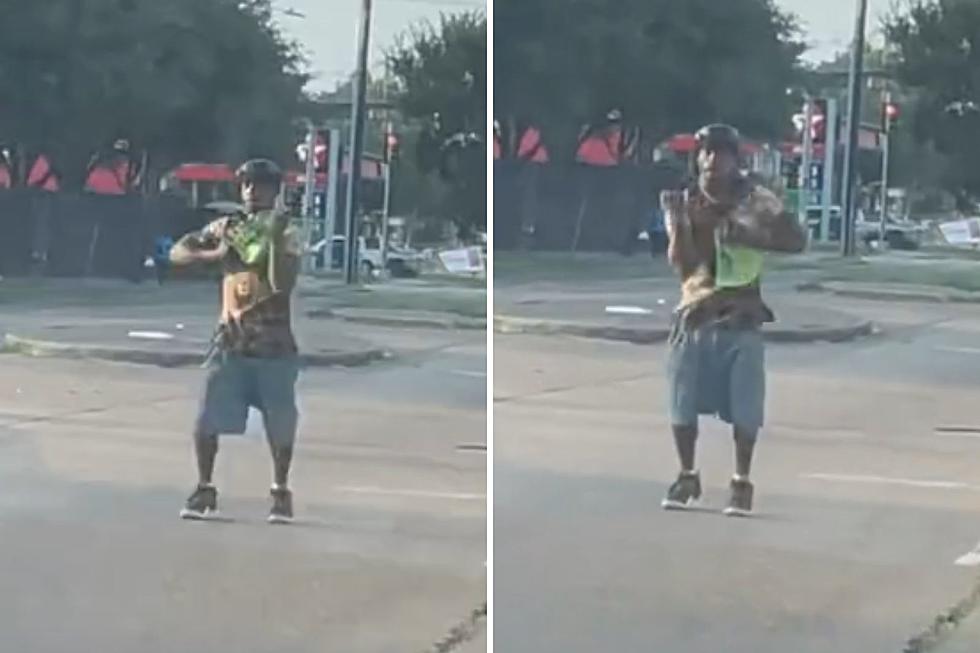 Texas Man Taunts Drivers on Highway
Twitter/Canva
A Texas man decided to bust some seriously impressive moves that had everyone's jaw-dropping!
We have absolutely no idea what's going on in the video at the bottom of the article, but it's entertaining, so why not bring a little joy to your life by sharing it with you?
Unraveling the Wild Tale of the Texas Man's Highway Antics!
The Wild Encounter Unfolds
Our video opens with a man wearing a helmet standing in the middle of a Houston, Texas highway in front of a car as another person walks by.
Highway Taunting: The Play-By-Play
After the other person clears the road, the man starts taunting the car in front of him with some pretty sick karate moves. It's a sort of back step, then chop, then back step with the other leg and chop again.  Absolutely amazing.
Drivers' Reactions: Shock and Disbelief
The driver of the car sits there in disbelief, unable to drive forward. What would you do in this situation?  I guess you just wait until all the cars in the other lane clear, then hit the gas and get around him.
Conclusion
That's where the video ends, short but sweet. The cameraman did not seem like he was in the mood for any horseplay, as he said a couple words that we can't repeat here as he dropped the camera and ended the video.  Check it out for yourself below:
10 Common Laws Broken in Texas
Here are some examples of laws that are frequently violated in Texas.
Interesting Facts About the Great State of Texas
Here is a look at some little-known facts about the state of Texas.
24 Girls From Texas Went Missing In June. Have You Seen Them?
24 Girls from Texas who went missing in June are still missing as of July 16, 2023. These girls are from all across the State of Texas. Girls went missing from Dallas, San Antonio, Garland, Houston, Temple, and other cities across the state. They also range in age from 12 years old to 17. Please look through the pictures and see if you recognize anyone. Let's bring these girls home to their families.