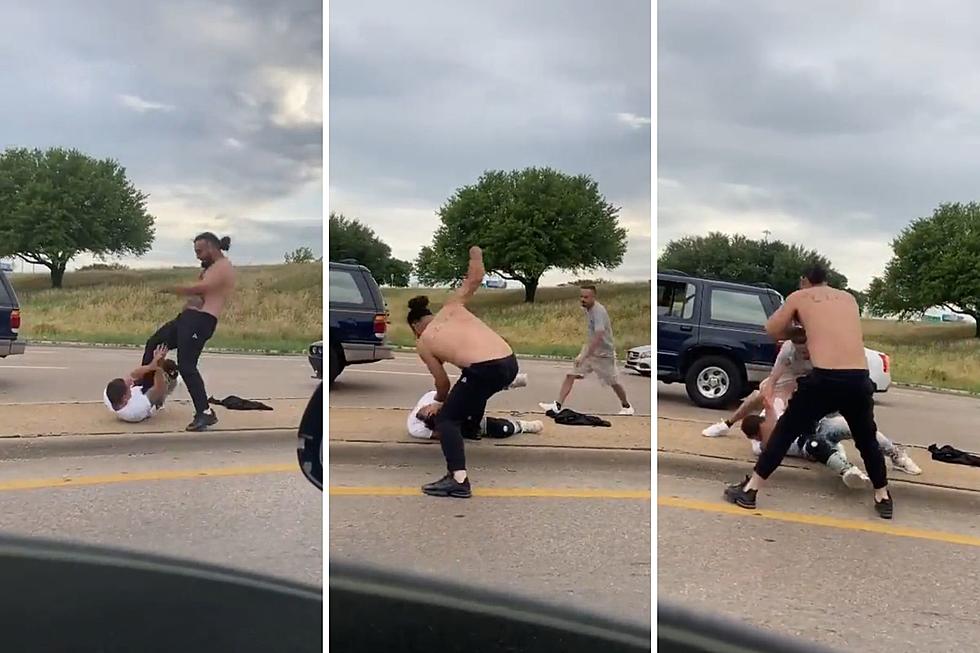 Violent Texas Road Rage: Single Victim Targeted by Duo
Twitter/Canva
A single victim found himself at the center of a terrifying Texas road rage encounter involving not one, but two aggressive perpetrators.
Of course, as per usual, we have no context as to what led up to this encounter.
The video at the bottom of this article opens with the camera person taking video out of the window of a vehicle as she slowly drives down a busy Texas road.
Pop that shirt off
As the camera moves past a car in the foreground, a wild scene is revealed.  One rascal in a white shirt is on the ground begging another rascal in a black shirt not to hit him.  The fella in the black shirt removes said shirt, which generally signals that the individual means business.
Don't kick a man while he's down
The Shirtless Guy (SG) proceeds to punch and kick White Shirt Guy (WSG) as he takes a defensive position on the ground, with no attempt to get up or fight back.
Bruh, he has it under control...
At this time, a third rascal wearing a grey shirt shows up.  At first, you might think he's there to help WSG as he's getting pummeled on the pavement. Yay, the calvary has arrived!
Not so much
Nope, this new guy joins up with SG and just commences assaulting WSG on the ground.
It's over
Just as the video ends, you can see both guys stop the beating and walk off.  WSG appear to be ok. Check out the video for yourself below and keep scrolling for the top comments form Twitter.
Top Ten Trashiest Towns in Texas
Time to take out the trash or show off the trash of Texas. Check out the top ten below.
(All crime statistics were pulled from
www.neighborhoodscout.com
based on each individual town. See editor's note for Lufkin, Texas.)
10 Must-Try Food Stops, From Houston, TX to Dallas, TX
The Best Hidden Gems in Texas