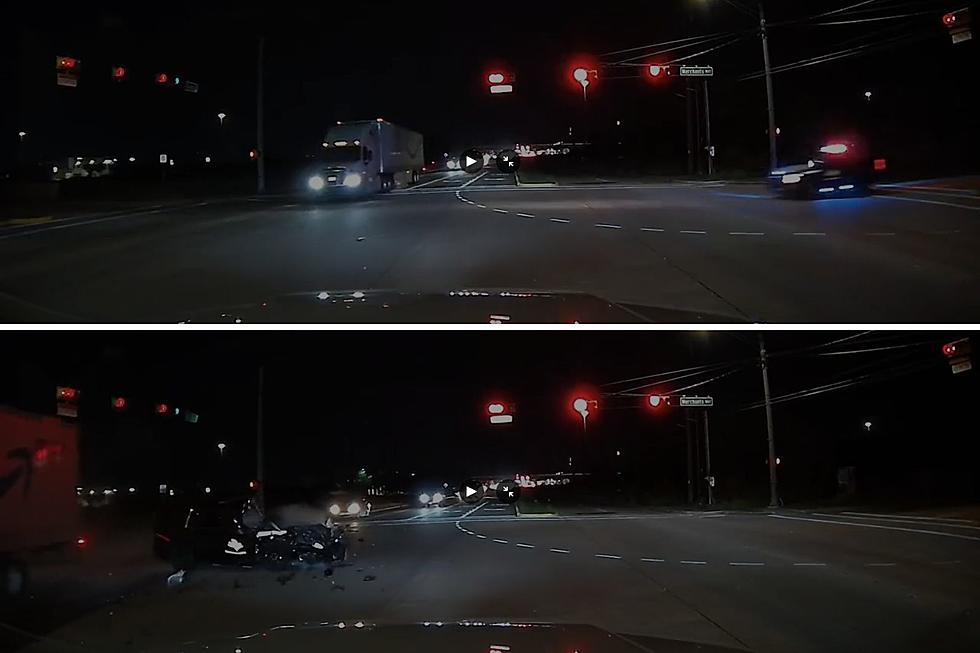 Video: Texas State Trooper Hits Amazon Truck
Reddit/TikTok
On Tuesday night, an incident in West Harris County involving a high-speed pursuit resulted in injuries to a Texas DPS trooper and several others.
Dang, this one was hard to watch.
The dashcam video opens with a view of an intersection in Texas at night. An Amazon truck is pulling into the intersection, unaware of the Texas Straight Trooper speeding toward it.
Red Light
The State Trooper is going so fast, that there was no way he could slow down. He flies over the intersection and crashes directly into the side of the truck and the front of his vehicle is crushed underneath, even though the Amazon truck was equipped with the metal on the side underneath the cargo bed that is supposed to keep vehicles from sliding under them.
Just a note: The trooper had a red light. They still have to stop and then proceed and so do fire/EMS.
That Looked Bad
As the truck slowly comes to a stop out of frame, the State Trooper's SUV rotates toward the camera and we can see the cab is totally crushed.
He's Going to Be OK
After the crash, it is reported that other motorists got out of their vehicles to help the trooper, who was rushed to the hospital. The trooper is said to have non-life-threatening injuries.
This incident serves as a good reminder to look both ways at an intersection before you go regardless of whether or not you have a green light.
Check out the video for yourself here.
Top Ten Trashiest Towns in Texas
Time to take out the trash or show off the trash of Texas. Check out the top ten below.
(All crime statistics were pulled from
www.neighborhoodscout.com
based on each individual town. See editor's note for Lufkin, Texas.)
Gallery Credit: Stryker
Adios Texas! Here Are The Ten States Former Texans Move To
Moving away from Texas is always a daunting thought. But where do the former citizens of Texans go when they leave? The top ten is right here.
Gallery Credit: Tommy Paradise, Townsquare Media, Canva
13 Fun Attractions That are Free to Visit in Texas
Here is a look at some really fun activities to enjoy with friends and family in the state of Texas that won't cost you anything.
Gallery Credit: Billy Jenkins