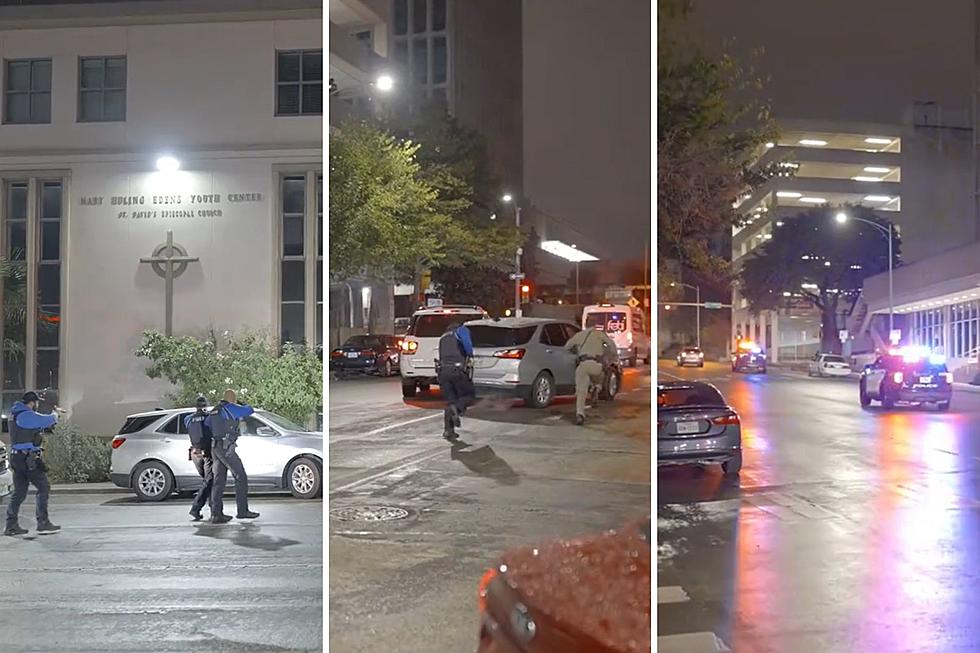 Watch: Daring Austin, Texas Driver Dodges Cops with Drawn Guns
TikTok/Canva
Wild Ride: Austin Driver's Daring Escape from the Long Arm of the Law.
In a scene that could rival a blockbuster action movie, one fearless driver in Austin, Texas, managed to dodge the cops, guns drawn, in a heart-pounding chase that left onlookers and law enforcement alike in disbelief.
I don't know why all these cops had their guns drawn on the guy in the video below, but he didn't seem to care.
Act I

As the video opens, four cops can be seen closing in on a car parked on the side of the road in downtown Austin. As soon as they get close enough to make contact, he peels out and takes off down the road.
Act II
The cops chase after him shouting. I guess they're told not to fire their guns unless absolutely necessary downtown with all those people around, because not one of those cops tried to shoot out his wheels like they do in the movies.
Act III
The driver pulls off some pretty sweet moves to get around the vehicles stopped at the light and also miss getting hit by all the traffic coming from his right. It's seriously impressive. The cops back in their cars and give chase down the road, which is where the video ends.
Legend has it, their still chasing after him to this very day.
Top Ten Trashiest Towns in Texas
Time to take out the trash or show off the trash of Texas. Check out the top ten below.
(All crime statistics were pulled from
www.neighborhoodscout.com
based on each individual town. See editor's note for Lufkin, Texas.)
Gallery Credit: Stryker
Adios Texas! Here Are The Ten States Former Texans Move To
Moving away from Texas is always a daunting thought. But where do the former citizens of Texans go when they leave? The top ten is right here.
Gallery Credit: Tommy Paradise, Townsquare Media, Canva
13 Fun Attractions That are Free to Visit in Texas
Here is a look at some really fun activities to enjoy with friends and family in the state of Texas that won't cost you anything.
Gallery Credit: Billy Jenkins