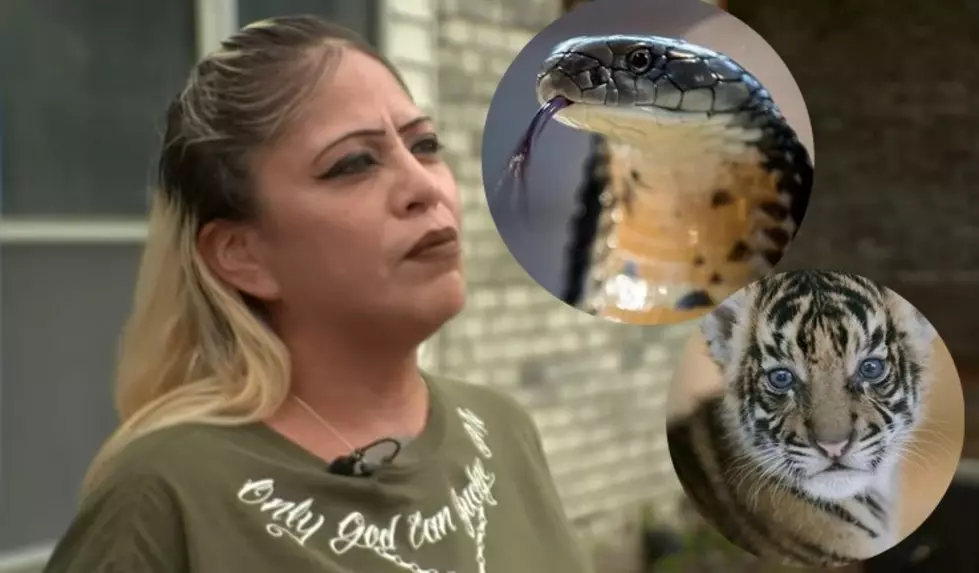 Texas Woman Has the Worst Luck, She Lived Next to the Cobra Guy AND a Tiger Guy
Getty Images/YouTube
Lady, don't ever invest in lottery tickets. Luck is not on your side.
In my opinion, the biggest story in Texas last year was this guy in Grand Prairie that just lost his king cobra. Do you remember in the Jackass Number 2 when they lock bam in a cage with a king cobra and he started crying? I would have done that to. A king cobra is the scariest animal in the world to me and I cannot believe someone illegally had one in their home in Texas.
THEN it freaking gets out and we STILL don't know where it is. Someone who lived in that neighborhood was Lisa Fonseca. Back in 2021 she was on the lookout for that snake in her neighborhood. Lisa moved out of Grand Prairie to a new neighborhood in Oak Cliff, Texas. Well Lisa's crazy neighbor animal encounters continue.
On Wednesday, law enforcement seized a baby tiger from rapper Trapboy Freddy. Who is Lisa's next door neighbor. Apparently police were serving a warrant on the property for weapons charges. While going through the house, police found a baby tiger locked in a cage. Look what you have done Joe Exotic, now everyone wants tigers.
"I came out yesterday and saw a lot of cops, yellow tape, and a lot of unmarked vehicles," Fonseca told WFAA. "Then they took out a kennel, and I didn't get to see what was in it." She would go onto say, "If I can live two houses down from a cobra, I can live next to a tiger."
Lisa also says she would rather live in a neighborhood with a tiger than one with a cobra. 100% agree Lisa. F*** cobras and f*** you people that bring them here.
LOOK: Here are the pets banned in each state
Because the regulation of exotic animals is left to states, some organizations, including The Humane Society of the United States, advocate for federal, standardized legislation that would ban owning large cats, bears, primates, and large poisonous snakes as pets.
Read on to see which pets are banned in your home state, as well as across the nation.
WATCH OUT: These are the deadliest animals in the world