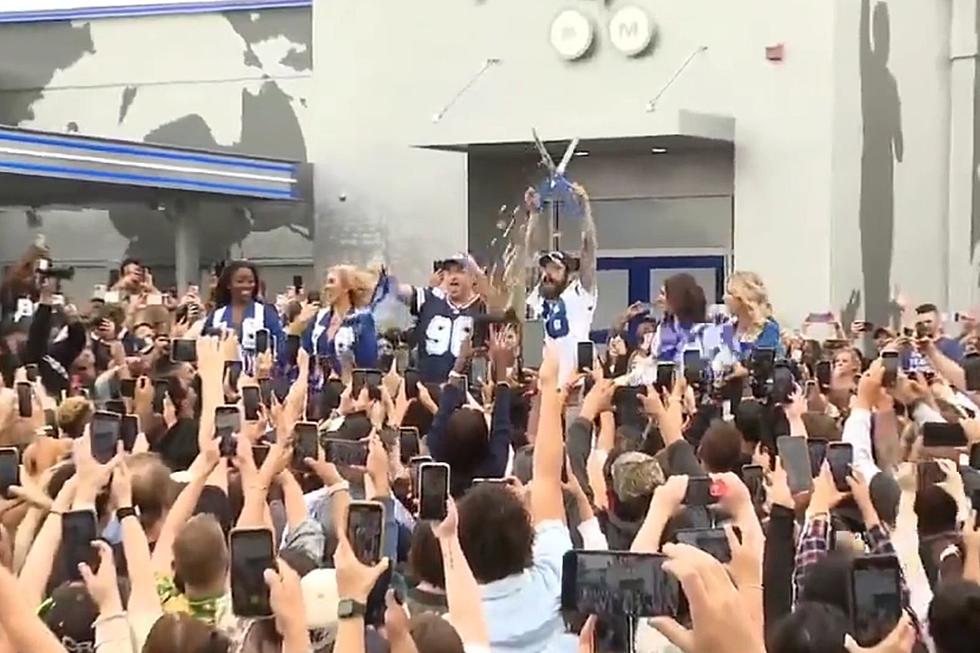 Dallas Cowboys-Themed Raising Cane's Sees Post Malone's Surprise
X/Canva
Now I've Seen it All
Well, gather 'round, folks! Prepare to be amazed by the most groundbreaking news of the century: Post Malone, the man who usually avoids attention, surprised the entire planet by showing up at the grand opening of a Raising Cane's restaurant.
But this wasn't just any chicken joint; it's a Dallas Cowboys and Post Malone-themed culinary masterpiece!
A huge crowd gathered on Thursday to witness the ribbon cutting taking place right on Interstate 35 and Northwest Highway in Dallas.
Suprise
The pop sensation himself, Post Malone, a die-hard Cowboys fan and Grapevine native, decided to grace the event in a Micah Parsons jersey. He waved at the crowd, leaving them in wild anticipation, wondering if they were hallucinating or if the singer had actually shown up.
Then, in an Oscar-worthy wardrobe change, Post Malone switched into a number 88 jersey and delivered a speech to the masses. "I couldn't think of a cooler place than the home of God's team and America's football team," he eloquently stated, as the crowd undoubtedly struggled to keep their jaws off the floor.
Cowboy Silver and Blue
The restaurant didn't stop at just naming their chicken strips after the Cowboys; they went full throttle and replaced the usual red and yellow Raising Cane's branding with the Cowboys' signature blue and silver. And let's not forget the pièce de résistance—a whopping 32-foot-tall Cowboys Star over the entrance to the drive-thru lane, because nothing says "I'm ordering chicken" like a giant star. Inside, the place is as blue as a Smurf in a blueberry patch, thanks to the blue interior lighting. They've also got a vending machine that's packed with exclusive merch, because who doesn't want a Post Malone-themed chicken strip T-shirt?  
And for the pièce de résistance, vintage Cowboys memorabilia displays are scattered around the restaurant. Because when you're enjoying your chicken fingers, you definitely need to be surrounded by jerseys from the '90s, a signed Troy Aikman football, and a life-sized cardboard cutout of Tony Romo throwing interceptions.
Conclusion
So there you have it, folks! The opening of the Dallas Cowboys and Post Malone-themed Raising Cane's is a historical event we'll tell our grandchildren about. Who knew that music, sports, and chicken strips could blend together so seamlessly to create such a monumental spectacle?  
Top Ten Trashiest Towns in Texas
Time to take out the trash or show off the trash of Texas. Check out the top ten below.
(All crime statistics were pulled from
www.neighborhoodscout.com
based on each individual town. See editor's note for Lufkin, Texas.)
Gallery Credit: Stryker
Adios Texas! Here Are The Ten States Former Texans Move To
Moving away from Texas is always a daunting thought. But where do the former citizens of Texans go when they leave? The top ten is right here.
Gallery Credit: Tommy Paradise, Townsquare Media, Canva
13 Fun Attractions That are Free to Visit in Texas
Here is a look at some really fun activities to enjoy with friends and family in the state of Texas that won't cost you anything.
Gallery Credit: Billy Jenkins