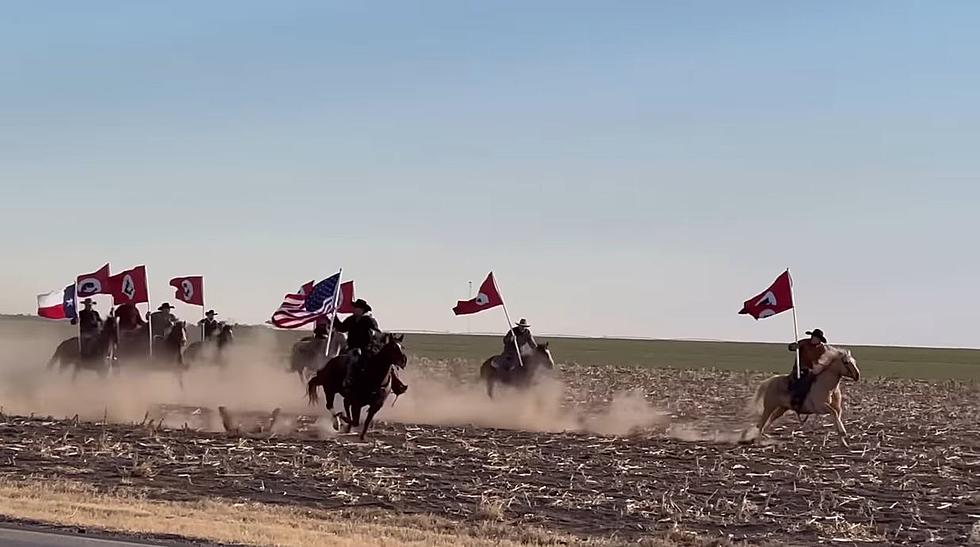 Epic Sendoff to State Championship for Texas High School Girl's Basketball Team
YouTube
This is the most Texas thing I've seen in a long, long time.
Congratulations to the Gruver High School girl's basketball team for punching their ticket to the state tournament. The Lady Hounds are bound for the 2A state semifinal in San Antonio. They're set to take on the Hearne Eagles this Friday morning at 10 am, according to Myhighplains.com.
As someone who grew up in a small town in northwest Texas, this video really warmed my heart. Cities across the country support their local teams when it comes to high school athletics, but there's just something about small towns and the passion they have for their teams.
And it was on full display when the Lady Hounds departed little ol' Gruver on their way to compete for a state title.
Seriously – I got goosebumps watching those cowboys give the girls a sendoff for the ages. And I'll go ahead and admit that I damn near got emotional upon hearing the excitement in those girls' voices when they saw those riders waiting for them outside of town.
Thankfully, one of the people commenting on the video on Twitter shared a tribute video of the state-bound Lady Hounds, giving us some cool drone footage of the parade and the following sendoff so that we can get a good look at just how passionate Gruver is about their sports.
I wish the best of luck to the Lady Hounds in their pursuit of a state championship.
Texoma High School Mascot Battle, Who Wins?
If you put all the mascots in Texoma up against each other in a fight, who comes out on top? I did a full breakdown on the science behind each logo this morning and we go from worst to first.
More Texoma High School Mascot Rankings
Today we go further into our mascot fight. Represented today is Wilbarger, Baylor, and Young counties. See where your favorite mascot lands in today's battle.
5 Texas Myths That Aren't Really Myths
Sure, texas isn't short on folklore. But there are many things people from outside Texas believe are myths, but are actually true.