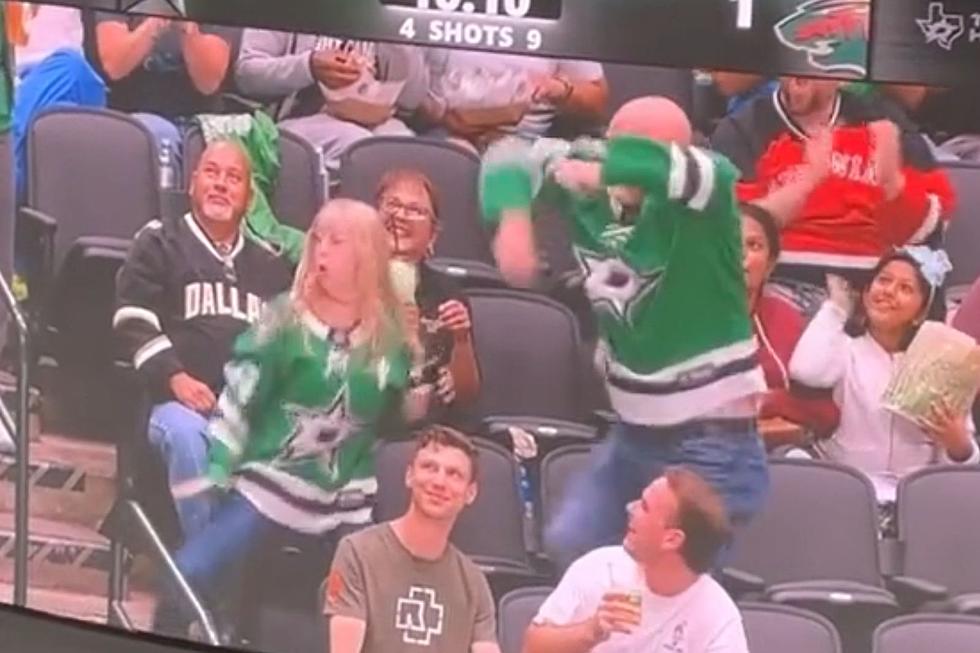 Watch Father-Daughter Duo Boogie Down on Dallas Stars' Scoreboard
TikTok/Canva
Epic Dance-Off on Dallas Stars' Scoreboard: Father-Daughter Duo Steals the Show!
In the world of heartwarming moments and epic dance-offs, the Dallas Stars recently delivered an unforgettable experience that had fans cheering, clapping, and dancing in their seats.
While hockey games are usually all about the action on the ice, this time, it was what happened on the scoreboard that stole the spotlight.
Meet the Stars of the Show
The video at the bottom of this article opens with a shot of the enormous video screen that serves as the scoreboard for the Dallas Stars in the American Airlines Center.
A man and a woman are vibing to the song being played over the arena's speakers.
Groovin' on the Jumbotron
As soon as they notice they are on the big screen, the dancing intensifies, to the point where they both leap up off of their feet at the exact same time and put the dance moves into fifth gear. They really go for it!
But, alas, as soon as they really get cooking, the feed switches back to the game.  BOO!
Dance-Off of the Decade
The first time I watched this video, I didn't have my glasses on, and I thought this was a married couple, and I hated it. Yuck. I don't know why, I just didn't like it. But then someone in the comments mentioned they were father-daughter, so I put my glasses on and watched again, and this time I loved it. Can't explain why. Now it's the cutest thing ever. I wonder if they've been busting moves like this since their daddy-daughter dance days?
Check out the video below:
Top Ten Trashiest Towns in Texas
Time to take out the trash or show off the trash of Texas. Check out the top ten below.
(All crime statistics were pulled from
www.neighborhoodscout.com
based on each individual town. See editor's note for Lufkin, Texas.)
Gallery Credit: Stryker
Adios Texas! Here Are The Ten States Former Texans Move To
Moving away from Texas is always a daunting thought. But where do the former citizens of Texans go when they leave? The top ten is right here.
Gallery Credit: Tommy Paradise, Townsquare Media, Canva
13 Fun Attractions That are Free to Visit in Texas
Here is a look at some really fun activities to enjoy with friends and family in the state of Texas that won't cost you anything.
Gallery Credit: Billy Jenkins