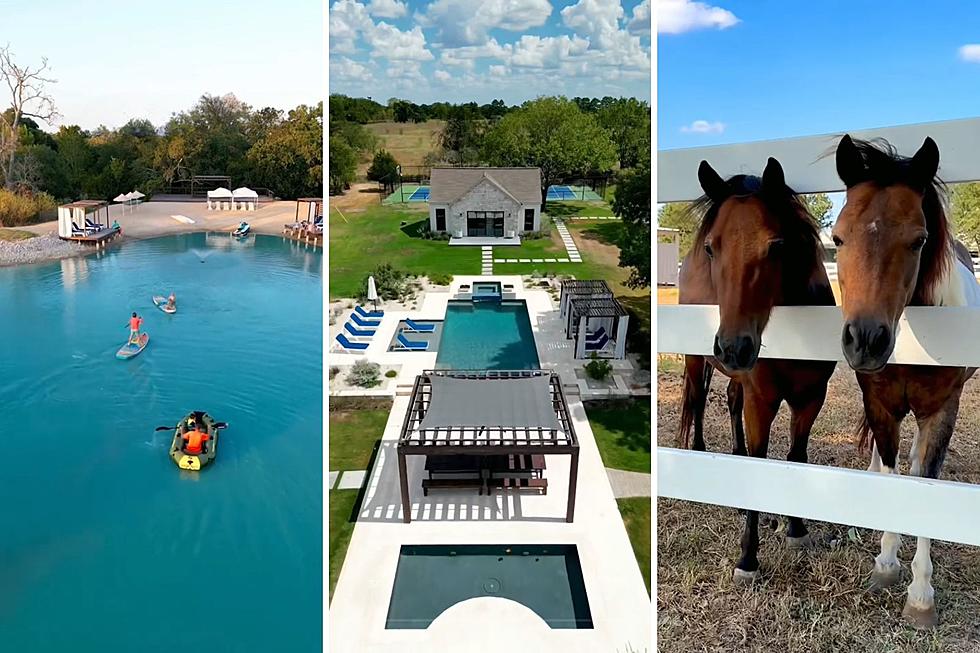 Check Out One of the Most Unique Texas Vacation Properties
Twitter/Canva
Milk and Honey Ranch is a working farm with luxury accommodations on 54 acres of land.
Y'all, hold onto your hats because we've got an incredible Texas gem that you need to know about.
Nestled deep in Burton, Texas lies Milk and Honey Ranch, a vacation property that's nothing short of extraordinary. Imagine a working farm combined with luxurious accommodations on a sprawling 54-acre oasis. It's like something out of a dream, and we're here to spill all the juicy details.
A Taste of True Texan Life
Milk and Honey Ranch isn't your typical vacation property. It's an authentic working farm where you can experience the joys of rural life without sacrificing an ounce of comfort.
Luxurious Accommodations
The ranch's latest accommodations include the distinctive Beach Club and three Casitas. The property currently offers a total of six accommodations, with two more in development, along with an event venue. During your stay, you'll receive a warm welcome with a gift basket waiting in your room, access to your personal golf cart for exploring the grounds, and unlimited refreshments and snacks in a dedicated room.
Adventure Awaits
Additionally, you can partake in various experiences throughout the property, such as interacting with farm animals, enjoying a fantastic pool and hot tub, taking advantage of the beach club, working out in the gym, playing pickleball, exploring hiking trails, e-biking, fishing, engaging in volleyball matches, and even trying your hand at skeet shooting.
Check out the video below:
@texas_explorer One of the most unique #Texas vacation properties! Milk and Honey Ranch is a working farm with luxury accommodations on 54 acres of land. They are located in Burton, TX and just mins from Round Top and Brenham, TX. Their unique Beach Club and 3 Casitas are the ranches newest accommodations, and probably one of the coolest places I've visited! ️ They have a total of 6 accommodations on property (2 more on the way) and an event venue! When you visit, you'll be greeted with a gift basket in your room, your own golf cart to use on property and an unlimited drink and snack room. You can also enjoy these different experiences around the property: farm animal encounters, amazing pool & hot tub, beach club, gym, pickle ball court, trail hiking, e-biking, fishing, s'mores, volleyball court and skeet shooting. #texastravel #texasgetaway ♬ Jungle - Emma Louise
Top Ten Trashiest Towns in Texas
Time to take out the trash or show off the trash of Texas. Check out the top ten below.
(All crime statistics were pulled from
www.neighborhoodscout.com
based on each individual town. See editor's note for Lufkin, Texas.)
Adios Texas! Here Are The Ten States Former Texans Move To
Moving away from Texas is always a daunting thought. But where do the former citizens of Texans go when they leave? The top ten is right here.
13 Fun Attractions That are Free to Visit in Texas
Here is a look at some really fun activities to enjoy with friends and family in the state of Texas that won't cost you anything.