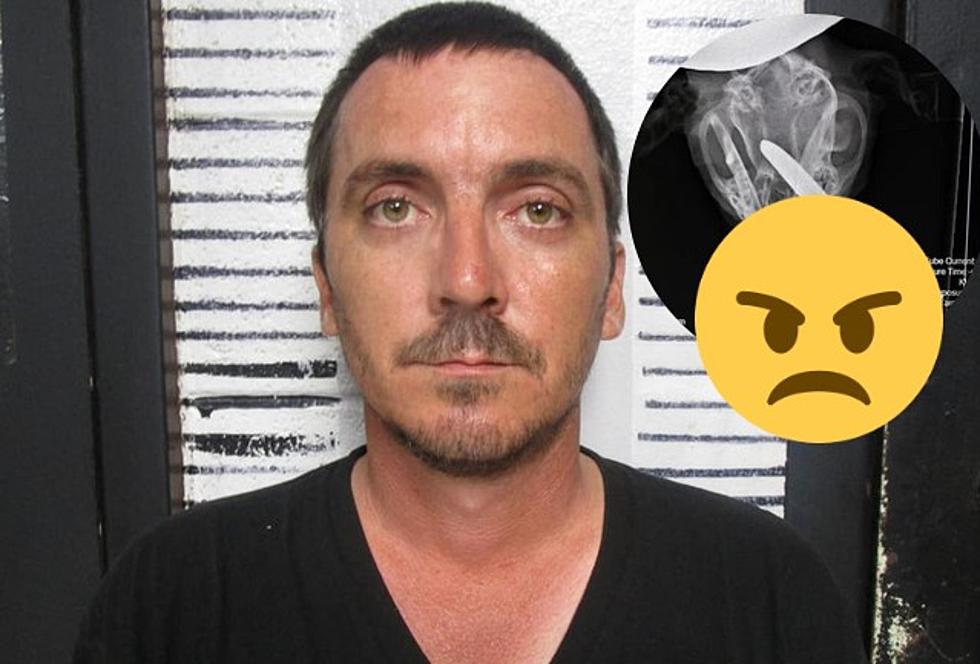 Oklahoma Man Arrested for Stabbing Puppy in the Head
Photos from Pauls Valley Police Department
WARNING Graphic photos and x-rays in the story.
Many folks in Oklahoma are asking, "Why would somebody do this?" Well it looks like on Sunday a man by the name of Coby Davis had an issue with his neighbor's puppy. The puppy was trying to start fights with his dogs, which are separated by a fence. Instead of bringing his dogs inside or asking his neighbor to bring the puppy inside. Coby allegedly took matters into his own hands.
Coby allegedly jumped the fence, stabbed the dog in the head with a butter knife, then jumped back over the fence. The puppy was taken to nearby vet hospital to have the knife removed, as of right now the puppy is miraculously alive. Officers who took the puppy to the hospital said it showed no signs of aggression while they were there.
Keep Scrolling for Updated Photos on the Dog
Officers went to investigate Davis' residence about what happened and he claims he threw a knife at the puppy because it was starting fights with his dogs. Look out Pauls Valley, Oklahoma Coby is like one of those superheros that can throw a BUTTER knife with such force it can penetrate a skull.
As you will be able to see in the X-rays below, that is clearly a butter knife and would need a lot of force to go in. So many are doubting the throwing knife story at this time judging from the comments on the Pauls Valley Facebook page. At this time, he has been charged in the Garvin County jail on a felony charge of cruelty to animals.
Hopefully the dog has a speedy recovery.
WARNING Graphic Images of X-rays and the Dog After Surgery
LOOK: Longest-living dog breeds
LOOK: The most popular dog names of 2022 in every state
Hey dog lovers, check out this awesome list of the most popular dog names in 2022 for every state, and get ready for some serious cuteness overload.