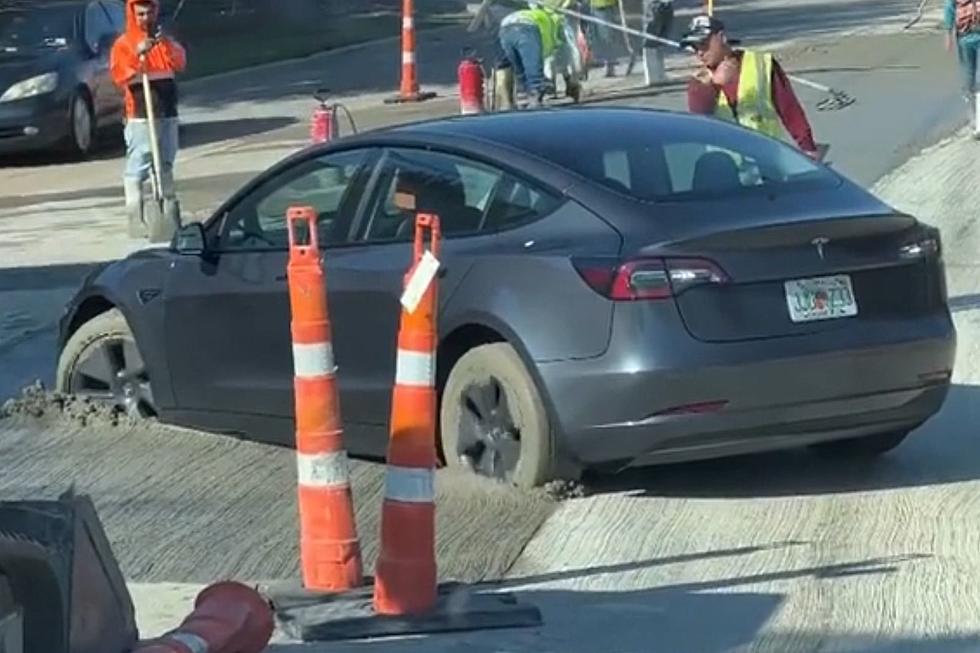 Video: Tesla From Florida Trapped in Texas Cement
TikTok/Canva
Unbelievable! Tesla Stuck in Texas Cement
We'll be breaking down the video at the bottom of this article without any context whatsoever because that's what we do here.
The folks at the Dallas Texas TV have released another banger, let's get into it.
Wrong Turn
The video begins and we are treated to a fantastic song:  "It's a Beautiful Morning" by The Rascals. In the background, a road crew in Arlington, Texas is on a street smoothing over some fresh cement with those big squeegee-looking tools they use.
In the foreground, a Tesla with Florida plates is spinning its wheels, as all four are buried halfway up the rim. She's got herself stuck in fresh, wet cement. It's a beautiful morning indeed.
Just... How?
How did she miss the bright orange cones and all of the construction workers? Does Florida use different colors? Many in the comments suggest that maybe it was in self-drive mode. Others blame it on the Floridian Origin.
Floridian Origin? Good name for a band. Bonus points if none of the members of the band are actually from Florida. But I digress.
Best Supporting Actors
Two other cool things you might have missed upon your first viewing of this video are:
The guy on the left-hand side of the screen, standing right in front of the car recording it with his phone with a big ol' smile on his face.  He's ruthless. I love it.
The guy in the teal shirt and white boots on the right-hand side of the frame cat walking slowly toward the car.
Check out the video below:
Five Area Codes You Should Never Answer if You Live in Texas
Wherever you live in Texas, chances are very high you hate spam calls. But did you know that there are five area codes you should never answer? These are area codes that are notoriously spam callers.
6 Wanted Sex Offenders Still On The Loose in Texas
Four of the top 10 fugitives have already been caught this month. Take a look at the photos and help get the rest.