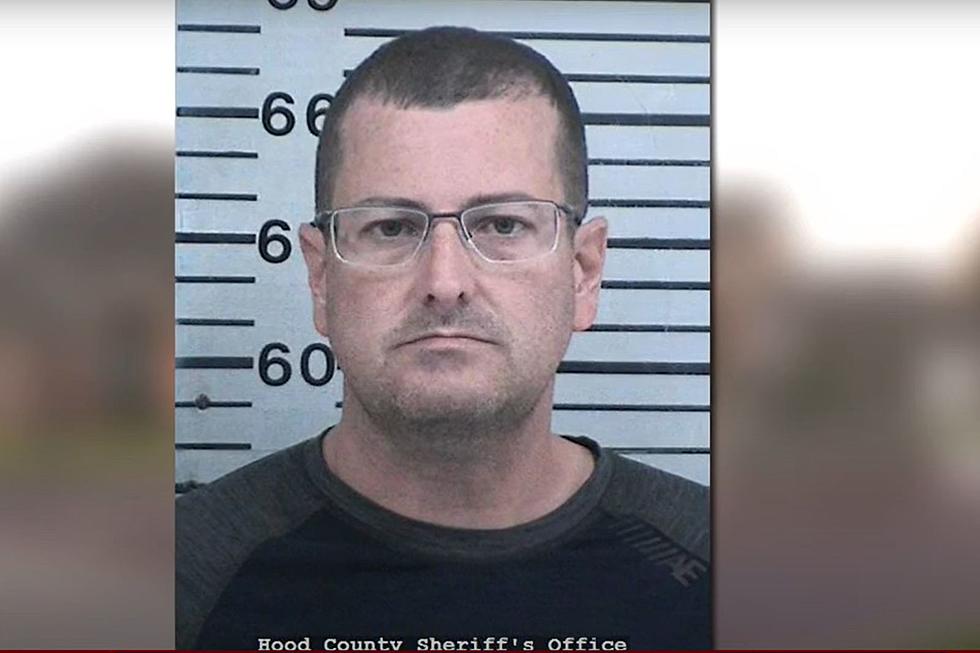 Texas Council Candidate Arrested for Child Porn Came Within 17 Votes Short of Run-Off
Fox4Youtube/Canva
The city council candidate for Granbury who just got arrested for child porn came within 17 votes of making it to the run-off. 
The election for Councilperson Place 4 had three candidates. Incumbent Trish Burwell opted not to run for re-election.

Results:

Gary "Skip" Overdier: 1,072 votes, 45.93 percent

Charles Beard: 639 votes, 27.38 percent

Brad Benson: 623 votes, 26.69 percent

Since none of the candidates received more than half the votes, a runoff election with the top two candidates is scheduled for Saturday, December 9. Early voting in person for the runoff election starts on Monday, November 27, and ends on Tuesday, December 5.
Backstory
The Hood County News received some troubling news on the morning of November 6th. It was reported that Granbury City Council Candidate Brad Benson's home was visited by law enforcement that day. Brad Benson is not just a candidate but also the General Manager and Partner of Cinergy Cinemas and a dedicated Granbury Volunteer Firefighter, residing in the 1200 Block of Mallard Way.
At approximately 6 a.m., witnesses noticed a significant number of cars, around 30 to 40 of them, at Benson's residence. Among these vehicles, two were state troopers, and five were unmarked white cars. Only the state troopers were in uniform; the others were dressed in plain clothes. The tipster observed that badges were visible, and the officers were carrying firearms.
"It was clear they were some kind of investigators," the tipster recounted. "They had Brad in the back seat of an unmarked car, and then he came out briefly, standing outside before they placed him back in the unmarked vehicle."
The tipster also noticed one individual from the group handing a brown paper sack to one of the State Troopers. The individuals at Benson's residence appeared to be moving in and out of his house. Later, they searched his truck and truck bed.
Following the truck search, Benson was seen being placed in the back of a state trooper's car before being driven away, with the other vehicles following suit.
HCN Publisher Sam Houston reached out to the chairman of the Republican Party of Hood County, Steve Biggers, to verify a statement posted on social media. Biggers confirmed the shocking news: "We have just learned that longtime community member, Deputy Fire Marshal, Lifetime Member of the Granbury Volunteer Fire Department, small businessman, and City Council candidate Brad Benson was taken into custody by law enforcement this morning. Based on the limited information available, it is our understanding that a serious sex-related offense may be involved. If these allegations are true, there is no way the party would ever condone such activity."
Additionally, the HCN obtained information from the Hood County Sheriff Bond Report, revealing that Bradley Jay Benson was charged with two counts of felony first-degree child pornography possession on November 6 at 2:04 p.m. According to Hood County Sheriff Roger Deeds, Benson's bond was set on November 7, with both charges set at $100,000 each.
The Hood County News is actively investigating this situation and has reached out to local law enforcement for a comment. We are committed to providing updates as this story continues to develop. Our thoughts go out to all those affected by these events during this difficult time.
Top Ten Trashiest Towns in Texas
Time to take out the trash or show off the trash of Texas. Check out the top ten below.
(All crime statistics were pulled from
www.neighborhoodscout.com
based on each individual town. See editor's note for Lufkin, Texas.)
Gallery Credit: Stryker
Adios Texas! Here Are The Ten States Former Texans Move To
Moving away from Texas is always a daunting thought. But where do the former citizens of Texans go when they leave? The top ten is right here.
Gallery Credit: Tommy Paradise, Townsquare Media, Canva
13 Fun Attractions That are Free to Visit in Texas
Here is a look at some really fun activities to enjoy with friends and family in the state of Texas that won't cost you anything.
Gallery Credit: Billy Jenkins