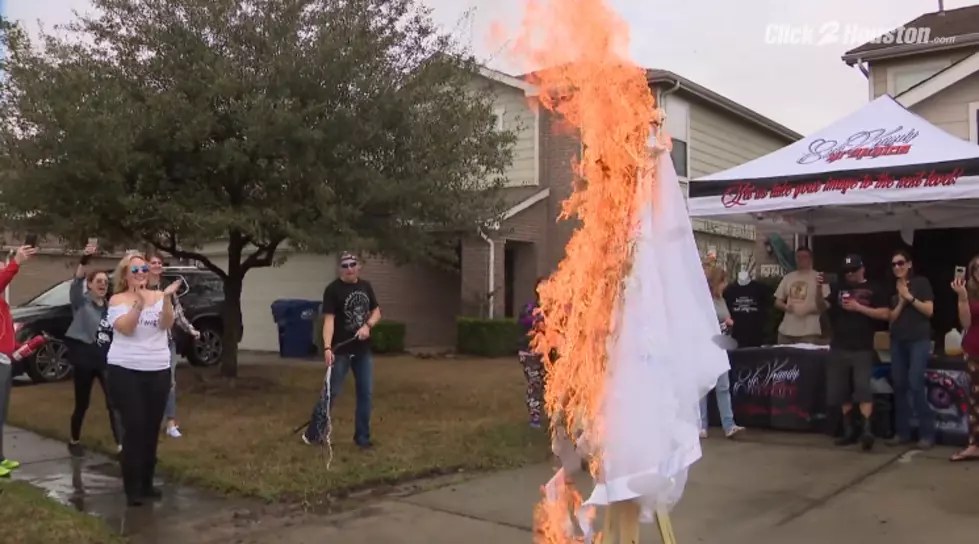 Texas Woman Hosts 'Freedom From A–holes' Garage Sale After Divorce
Screenshot via Click2Houston video
This lady is so happy not be married anymore, but she also needed some cash.
Briana Barksdale of Spring, Texas just got divorced after four years of marriage and she is happy about it. She put an ad on Craigslist, which is now removed, about her Freedom from A--holes party. It was a party, donuts and mimosas were had. It even had the burning of the wedding dress to close it all out.
Briana also used it to sell some stuff because she needed some money after the divorce court battle. She spent around $50,000 throughout the whole process. Brianna made about three thousand dollars during the sale. Briana's now ex-husband was in jail for a period of time for assaulting a family member. From her post, looks like it was Briana.
Briana had almost one thousand people stop by her party/sale. Her Craiglist post when viral, which you can read below. It is worth it.
"So, SATURDAY, February 10th is it. The "freedom from a--holes" garage sale.
"I have ALL the things.
"Living room set, queen size bed/mattress, a wooden bunk bed that breaks down into 2 twins, an entire kitchens worth of things, dining table, some clothes, a TV stand, tools, linens, pretty much everything it takes to keep a lazy worthless human being in a state of comfort for a year.
"I also have a ton of kids games and toys (boys or unisex). They mostly belonged to my kids, but easily could have been his since the maturity levels are about the same :)
"Which reminds me, I do have a playstation (sic) and an Xbox. And a bunch of other electronic-y stuff. Ha. Selling that too. (Don't judge me, the guy tried to take my DOG... who does that?!?!)
"Oh, and I'm selling the grandmothers (sic) silverware. Because he deserves it. F him. Maybe he'll learn not to get bartenders pregnant and hit his wife. 
"If you've EVER been completely screwed over by an ex, PLEASE come support my garage sale and help me get rid of this (expletive) so I can move on with my life. 
"You can even help me burn the pictures, and my wedding dress, if you like. There will be mimosas. And doughnuts. Because I'll be up early and life is stressful. 
"And I'll even let you pay me electronically (Venmo or PayPal) if you don't have cash. Yay technology.
"The address is 29210 Legends Beam Dr. Spring, TX 77386. It's in Legends Run neighborhood off of Rayford. 
"Come stop by. Buy something. Support moving forward and getting rid of (expletive). Or just get a great deal on a couch. Think of it as a party and THIS is YOUR personal invite!
"Maybe bring some champagne or OJ, cuz it sounds like we may need it based on the response I'm getting.
"This is happening this Saturday from 7:30 AM until I need a nap... so maybe 2ish?"
BONUS: Texoma Groom Has Priceless Reaction to Seeing His Bride