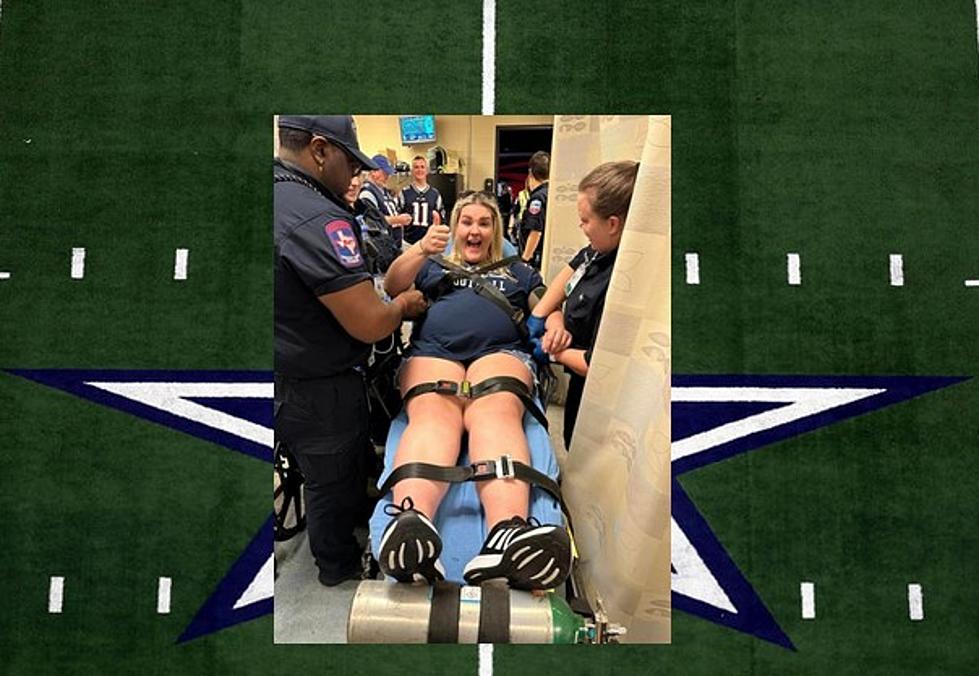 Dallas Cowboys Fan Went Into Labor at AT&T Stadium on Sunday
Getty Images/Facebook
I don't know what the announced attendance was for Sunday's game, but we almost added one to the overall total.
Keep Scrolling to Check Out the Newest Dallas Cowboys Fan
Looks like Tyler Waterman and Haley Waterman are a house divided. Tyler is a big New England Patriots fan while Haley is the sane one in the relationship rooting for the Dallas Cowboys. On Sunday the two teams took each other on and when the Cowboys scored their first offensive touchdown, something magical happened.
This Play Lead to a New Baby Into the World
Apparently Haley stood up to cheer for the touchdown and her water broke. Tyler is thankful he had an excuse to leave early since his Patriots were getting absolutely dominated by the Cowboys. Early the next morning, the Watermans officially brought in their newest fan into the world who is named Delaney. She came three weeks early into the world, but I guess she wanted to what everyone was yelling about on Sunday.
Check Out Photos from the Stadium and the Hospital Below
So the question now is...will Delaney be a Cowboys fan or a Patriots fan. Mom says she will let Delaney decide, but I am sure Dad will try to corrupt her to the dark side if I had to guess. Hopefully Jerry Jones sees this and sends a care package to the family. Get some good karma on the Cowboys side in picking the future of this fan.
Every Member of the Dallas Cowboys Ring of Honor (So Far)
When you look up at AT&T Stadium, you will notice the names of the Dallas Cowboys legends that have helped the franchise in one way or another. Here is everyone that has their name etched into Dallas Cowboys history forever.
Gallery Credit: Stryker
Remember When the Dallas Cowboys Practiced in Austin, Texas?
Today we're taking a look back before the Cowboys came to Wichita Falls for training camp and practiced at St Edwards University over in Austin from 1990-1997.
Gallery Credit: Stryker