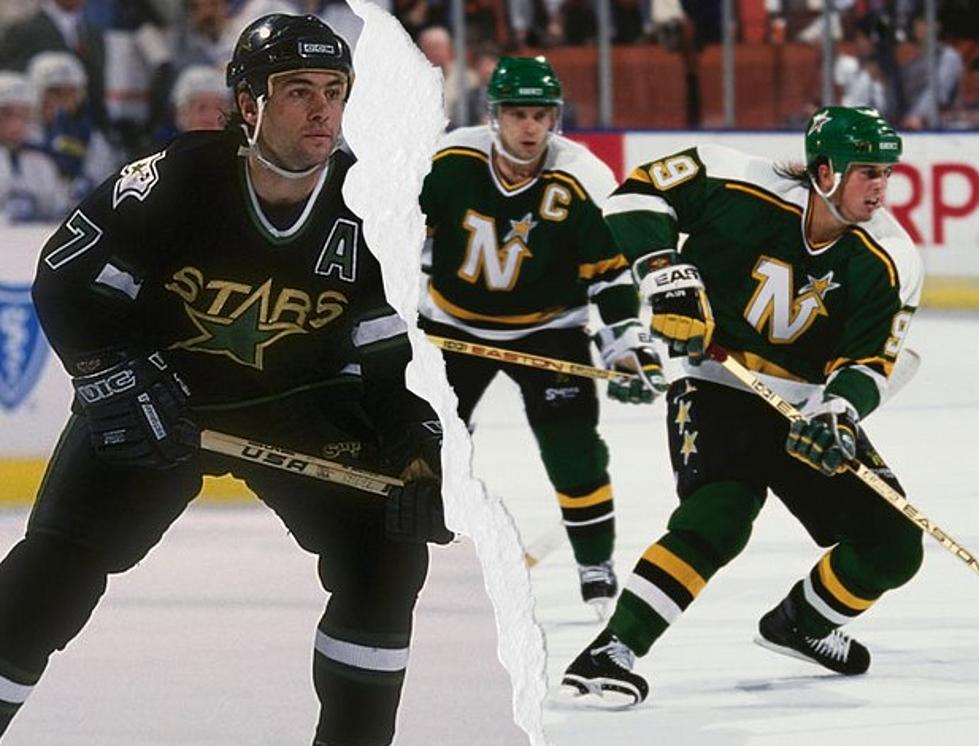 Do You Know Why Dallas Has the Hockey Team From Minnesota?
Getty Images
Before the Dallas Stars have their first playoff game tonight, let's remind Minnesota why we have their hockey team.
I am a massive fan of the Dallas Stars and it looks like a rivalry will be renewed in the first round of the Stanley Cup Playoffs tonight. The Minnesota Wild and the Dallas Stars will meet up and whenever this happens. Minnesota fans love to remind us that we have their old hockey team. Which is true, but do you know why we have their hockey team?
Low Attendance?
According to Hockey Database, the final full season in Minnesota the North Stars had the lowest attendance in the entire league averaging over 7,000 fans per game. Since the arena they played in held 15,000, they were not even filling half of the seats for a few seasons. The next closest team in the NHL attendance wise in 1991 was the New York Islanders and they had over 10,000 fans on average per game. Their venue held 16,000 so at least they were above half filled for games.
Mall of America?
This is where the spite with Minnesota really started. The North Stars played at a venue called the Met Center in Bloomington. The North Stars wanted to have a complex leading into the Met Center with attractions. You know how when you go to American Airlines Center in Dallas, the venue has shops, bars, and restaurants leading into the venue? The North Stars owners wanted to build something like that in the early 1980's. Allegedly a deal was good and then fell through. That land would go to become a part of The Mall of America which would open in 1989. This really pissed the North Stars owners off at the time.
Minnesota Timberwolves?
Back in 1989, a new NBA team was moving into Minnesota. The Timberwolves would be going into a brand new arena called the Target Center in Minneapolis. Now it looks like their were talks about the North Stars moving into this brand new venue. Which makes the most sense. NBA and NHL teams share arenas all the time, so what happened? Well the Timberwolves had advertisers that were direct competitors with the Minnesota North Stars. So instead of changing the advertisements in the arena before every game, they said they couldn't move in unless they cut ties with those advertisers. Which did not happen, so stuck in the Met Center with no expansion due to the Mall of America.
Norm Green?
It is 1990, and the Minnesota North Stars have a new owner. His name is Norm Green and he actually owned the Calgary Flames for a period of time. Now it is because of this guy that I really have a hockey team in Dallas, but he is allegedly a scumbag. Back in 1992, several women came forward citing sexual harassment complaints in the North Stars office. At least half a dozen women said things like "kissing female employees on the cheek and commenting on their clothes and makeup." Why do I mention this sexual harassment lawsuit?
Kelly Green!
This is why I believe Dallas has a hockey team. The wife of Minnesota North Stars owner Norm Green. She allegedly told her husband due to this sexual harassment claims she wanted him to move the North Stars somewhere warmer or she was leaving him. She allegedly was going to take him for all he had in court. This is all hearsay, but a bunch of publications throughout the years seem to confirm the allegations.
Stars Move to Dallas
Although the team did not move to Dallas til the 1993 season, fans knew in December of 1992. Minnesota hockey fans would get a new team in 1997 with the Wild, but they still hate the Dallas Stars with a passion. All I have to say to them, don't get mad at me because my former owner was allegedly a scumbag. Several things lead to your team leaving and it seems like that was the straw that broke the camel's back.
Go Stars and we will see what happens in the first round of the playoffs.
The Definitive Ranking of Texas Professional Sports Mascots
I am a Dallas fan for pretty much everything, except baseball. Sorry, grew up in Baltimore so the Orioles are my team. However, when it comes to my mascot list below, I am being 100% honest. I think my choices will honestly shock you.
The Best and Worst Jersey for Every Professional Dallas Sports Team
Only focusing on the big four and I know my choices will piss A LOT of people off. I like weird s*** and I think my taste in jerseys will show this.