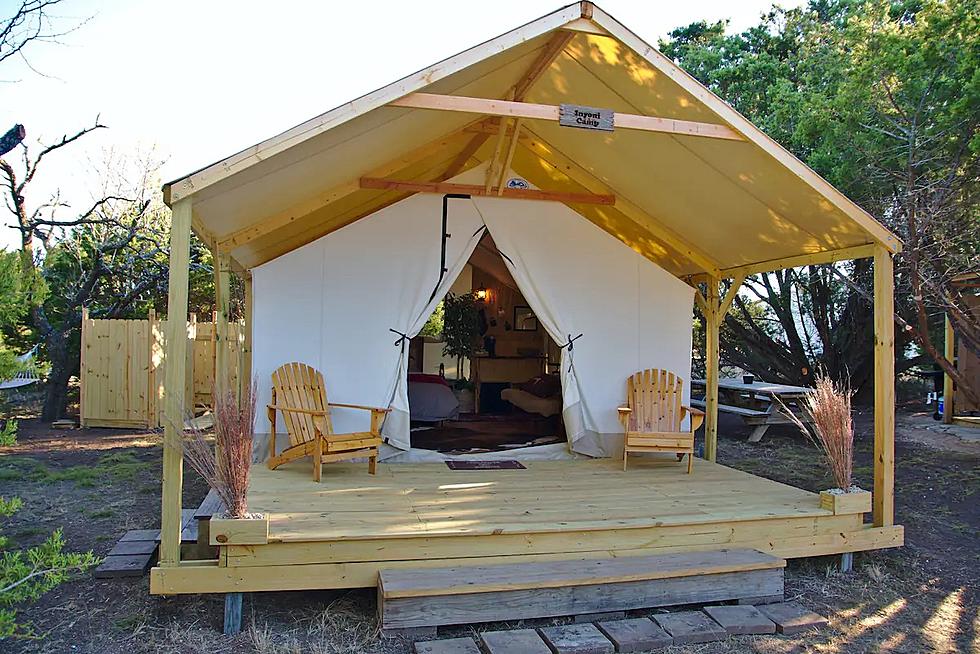 Camp In Comfort In This Safari Tent In The Texas Hill Country
Photo Credit: Airbnb
Who says that you have to head all the way to Africa to go on a safari?  You can camp in comfort in this luxurious safari tent at the Iron Pig Ranch out in the Texas Hill Country.  This rental is not only perfect for a romantic getaway, but it's ideal for those who love the great outdoors as well.
Forget the sleeping bags.  You won't have to sleep on the dirt here.  This luxurious tent which is located on an elevated platform, contains both laminate flooring and a queen-sized bed where two adults can comfortably sleep under the stars.  There's even a fold out futon, that an additional guest can use if needed.
You'll have plenty of room to relax in this 14' X 16' canvas safari tent.  You won't have to forsake modern amenities either.  This canvas safari tent has both a heater and an air conditioner.  You'll even find hot and cold running water, and a mini-fridge for you to store a few refreshments in.  There's also an outdoor kitchen nearby that's not only covered, but complete with a refrigerator, microwave, and even a barbeque grill to cook burgers and steaks on.  Don't worry, you won't have to go outside when nature calls.  Not only does this rental have a private bathroom, but there's also an outdoor shower with hot running water, that is close to the tent.
There's also a small outdoor bar/gathering area nearby known as the Bush Pub, where you can serve drinks, entertain guests, or play games with the family.  In addition to the Bush Pub, there's a fire pit, where you can enjoy catting with family and friends around a warm fire at night.
This canvas safari tent is an AirBnb rental at the Iron Pig Ranch, which is a wildlife management ranch located out in the Texas Hill Country.  Nature lovers will be able to enjoy the great outdoors on one of the properties hiking trails.  There's over 100 acres that are ideal for bird-watching, and several ponds and creeks that are perfect for fishing.  While exploring the property, you're likely to find rabbits, squirrels, and armadillos.  You may even find deer or turkey's roaming the area.
This AirBnb rental is a bargain at $135 a night.  If you're interested in booking this luxurious safari tent for a romantic getaway, or if you just want to explore the great outdoors, then you can book your stay by clicking here.
Stay In A Safari Tent In The Texas Hill Country
If your looking for a romantic getaway, or just want to unplug for a weekend, this Airbnb rental is the perfect place to relax and unwind. For only $135 a night you can enjoy the great outdoors, and sleep under the stars. You can book this property yourself by
clicking here
.
This Texas Rental Property With An Indoor Water Park Is Perfect For A Weekend Getaway
This luxurious rental property in the Texas Hill Country is the perfect spot for either a family vacation or a romantic getaway. What makes this place unique is that it has both an indoor water park, and a lazy river that the kids are sure to love.
If you want to rent this property, or just want more information then
click here
.